Catriona columbiana
Photo courtesy of Kenneth Kopp
Vet's Park, Hermosa Beach
May, 2007

Catriona columbiana (O'Donoghue, 1922) Revisited

Ken Kopp brings us one of those experiences that make writing this weekly column fun. He writes:
"In about 900 dives in SoCal, and surely close to 125 at Vets Park in Hermosa Beach, I've never seen one of these before.  Not in Vets, not anyplace.  And we see two on the same night.  Crazy."  
"Catriona columbiana - Or the British Columbia Aeolid. I first saw this guy all balled up . My buddy and professional Nudi spotter Claudette Dorsey and I were looking at it, and I made the "what the heck is this thing" sign. She made it back to me. I pulled out the wetnotes and scrawled "Hopkins Brown?".... we filled our masks laughing."   
"I looked closer, and it had the face of a Flabellina trilineata or any of the other Aeolids (4 spikes - two rhinophores, two oral tentacles), but it had the Rasta body of a Hopkins Rose... in brown.  I was looking at this ball o' Nudi when he decided to bust a move, unrolled,  started to move away . I then saw there was a little one behind him, too. I got a bunch of shots, got home at about 10:30 PM and fired open the Behrens book  
"My wife, Jaye was looking over my shoulder as I had the Nudi on my computer screen and was flipping pages.  She saw it on one of the pages, pointed it out and I was stoked!!  The BC Aeolid...a new Species for me and 'Dette. w00t!"
"Vets Park. You just never know what will show up there. I love that place."  
Well with that graphic portrayal, I only need to toss in a couple of comments, as this species was presented in BOW 444. Let's remember that those "4 horns" are orange and the ceras each has a thick, longitudinal opaque white line .
Thanks Kenneth. Great story and congrats on another species new to your life list.


Dave Behrens
Gig Harbor, Washington
June, 2007

---
Kenneth Kopp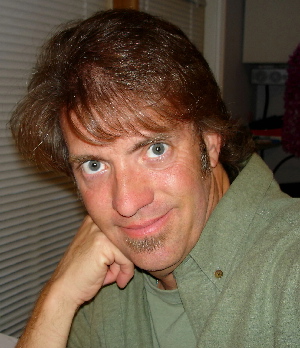 Diving since 1999. Currently doing about 200 local dives a year. Favorite Nudibranch dive is Old Marine Land, Palos Verdes, CA. We routinely see 12 - 14 species on a single dive there.

Got my first camera in 1974. Been shooting digital exclusively since 1998. Been shooting underwater about 3 years (mostly P&S Olympus and Sony.) Moved to the current DSLR (Nikon D70 / Ikelite rig)and two Ikelite DS125 strobes about a year ago.

I'm going to start shooting with a diopter soon - probably a 2X or 3X - so I can really get in tight. There is so much going on that is so tiny - Macro shots are the shots I love the best. So much life in a few square inches of our SoCal waters. I shoot hundreds of Nudi shots a month. Last year over my 254 dives, I probably shot over four thousand Nudi shots.

Writer and Marketing executive by profession. When I'm dry, I'm usually fly fishing or pounding and shaking things as a working drummer & percussionist.

Married, no kids. We have four house Rabbits. Yeah - its weird for me, too.
See more of Ken's work at bow_pix

Send Ken email at ken@divematrix.com

---
Puerto Vallarta, Mexico
March 2005

---
© The Slug Site, Michael D. Miller 2007. All Rights Reserved.

---