Dendronotus subramosus
Photo courtesy of Jan Kocian
Whidbey Island, Washington
May, 2007

Dendronotus subramosus MacFarland, 1966

Yikes, Dendronotus subramosus has attacked Puget Sound. Reports are flowing in from divers all around Washington's Puget Sound, as all sizes and colors are out grazing hydroids there.
Between Jan Kocian, Whidbey Island Branch Cartoonist, and Richard Zade (variations one and two ) we have complied most of the variations we are aware of. Rich collected us a huge orange specimen, but flooded his camera before getting a shot. Sorry my friend.
This dendronotid is best differentiated by the absence of lateral processes on the rhinophores, short, blunt papillae on the crown, and a frontal veil of only 4-6 branched processes.
The explosion in numbers this far north in the species range is a perfect indication of just how sporadic populations tends can be.
Dave Behrens
Gig Harbor, Washington
May, 2007

---
Jan Kocian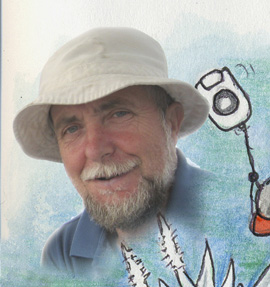 I was born in landlocked Czechoslovakia, but diving became my love early in life, getting my certification in the fresh cold waters of old quarry, before wet suits were available to the diving public behind the " Iron Curtain ".

After emigrating from there in 1968, the sea stayed close to my heart. I worked on research ships in the Pacific, enjoying the warm waters of the tropics for many years.

Not until I retired to Whidbey Island in Washington State I started to pay closer attention to the smaller creatures of the underwater world. And what a wonderful realm it is. After caves, wrecks and grand vistas, I am just beginning to discover the beauty of macro world.

My camera rig consists of a Nikon Coolpix 5400 digital camera in a Epoque housing with a single Epoque ES-150 DEX strobe.

WEBMASTER'S NOTES : Jan is quite a critter watcher which is evidenced by a special page set up for him at pnwsbuma.com. Well worth taking the time to visit!
Send Jan email at honkoc@hotmail.com


---
Puerto Vallarta, Mexico
March 2005

---
© The Slug Site, Michael D. Miller 2007. All Rights Reserved.

---