Janolus barbarensis
Eel Cove, Catalina Island
Photo courtesy of Scott Gietler


Janolus barbarensis (Cooper, 1863))

Janolus barbarensis (previously Antiopella barbarensis) is the southern member of a strikingly similar two species complex found along the California coast. The northern species, Janolus fuscus (O'Donoghue, 1924) was only recently resurrected from the doldrums of taxonomic synonymy as an appropriately described and distinct species (Terry Gosliner 1982). While these two Arminacean nudibranchs do look amazingly similar, they are best separated by: 1) the large orange-red crest between the rhinophores in J. barbarensis and 2) the branching of the digestive gland in the cerata of this species (seen here in perfect detail). Janolus fuscus has no crest, only a thin orange line down the center of the back, and the digestive gland is unbranched as clearly seen in Ron Long's photo in "Pacific Coast Nudibranchs", species 161, page 82.
The ceratal colors vary somewhat in intensity in both species. In this specimen the yellow-gold sub-apical band is quite faint, as is color at the tip. In the typical specimen the sub-apical band is bright, almost metallic, and the tip of the cerata is darker blue.
Named for its type locality, Santa Barbara, California, the ranges of the two species overlap somewhat in the central portion of the state, San Luis Obispo to San Francisco. It was this overlap that caused earlier taxonomists to think the two were just variations of a single species. Janolus barbarensis is known as far south as Bahia San Quintin, and from the Gulf of California.
Dave Behrens
Gig Harbor, Washington
Mar. 2007

---
Scott Gietler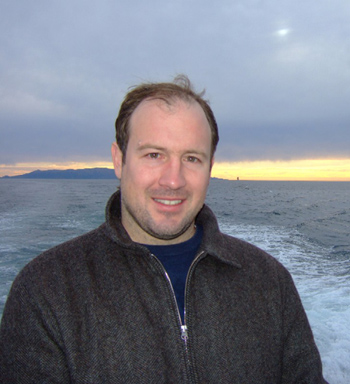 Scott grew up in New York, and only started diving when he moved to California in 2003. His love for marine life quickly led to a camera purchase and enrollment in a marine biology course.

When he is not diving he is either working in the financial field, doing yoga, helping fellow divers with fish id, or maintaining the website www.ladiving.org. He is also an active member of the Los Angeles Photographers Society (LAUPS).

Scott has dove in Thailand, Cozumel, Fiji, and Costa Rica, but Bali and southern California are his favorite dive locations. He has been known to rappel cliffs with his fiancee to access good dive locations.

He is currently shooting with a Fuji F10 and a small Fantasea strobe, an ultra-lightweight setup which allows him to take his camera setup through large surf and over rocks that larger setups would not survive.

He will be marrying his favorite dive buddy and nudibranch spotter Penny in Singapore in April, and then they will be off branching in Bali.

Send Scott email at sgietler@yahoo.com
or visit his nudibranch page .
---
Taxonomic information courtesy of:



---
© The Slug Site, Michael D. Miller 2007. All Rights Reserved.

---