Trapania sp.
Photo courtesy of Mabel Fang
Photo taken at Tulamben, Bali, Indonesia

Trapania sp. (undescribed species)
Round and around we go. It seems like every dive a sharp eyed Brancher makes into the clear and warm Indo-Pacific, deems another new species is found.
This week Mabel provides us with as yet another new species from Bali, Indonesia. This critter appears to be a new Trapania. Interestingly, its coloration is just opposite of the species presented in Tokozuka (2003) "Opisthobranchs of Bali and Indonesia",page 71, and Bill Rudman's Sea Slug Forum .
Mabel's critter is distinguished by its dark brown ground color and large white spots. Just when Shireen Fahey's paper attempts to put clarity to this genus, another one pops up.
Thanks Mabel.


Dave Behrens
Gig Harbor, Washington
Mar., 2007

---
Mabel Fang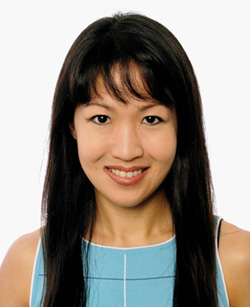 I started diving in 1995 and have been fascinated with nudibranchs ever since. My dive trips are mainly nudibranch hunting trips with like-minded divers mostly to Malaysia, Indonesia and the Philippines.

My first experience with photography was in 2001 with a Sony P1, and I subsequently upgraded to a Coolpix 5000 (in Light and Motion housing and one Inon strobe) which I've been using ever since.

Send Mabel mail at barramundi@ooi-online.com
---
Puerto Vallarta, Mexico
March 2005

---
© The Slug Site, Michael D. Miller 2007. All Rights Reserved.

---