Phyllodesmium rudmani
Photo courtesy of Webmaster
Animal courtesy of Karen Holmes
Photo taken at Tulamben, Bali, Indonesia

Phyllodesmium rudmani on almost bare Xenia host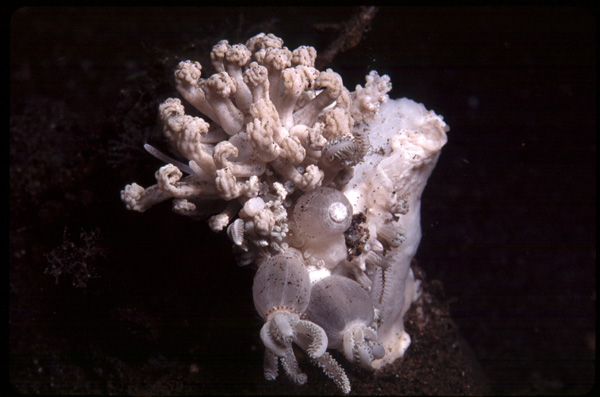 Some years ago, I made a trip to Tulamben, Bali, Indonesia to photograph nudbranchs (what else?). Anyhow I had the good fortune to meet Karen Gowlett-Holmes who was escorting a group of Aussies to Bali. Karen indicated that there was a Phyllodesmium residing on an Xenia host off the resort. Usually these guys are hard to find during the daytime because they hunker down awaiting night to resume predation on their host soft coral. Since this guy was on a solidary host, finding it wasn't a big problem.

After a few days the Phyllodesmium was observed to be absent from the host but was later found wandering out on the sand (pic above) no doubt in search of a new host.

Just another day at one of my favorite nudibranch destinations, Tulamben, Bali, Indonesia!

WEBMASTER'S NOTES:
Well, our Phyllodesmium sp. is no longer undescribed as revealed by a posting on Bill Rudman's Sea Slug Forum this morning Feb. 16th. The animal was named Phyllodesmium rudmani in honor of all Bill's work on "solar powered" nudibranchs. An honor richly deserved!
REFERENCES:
Burghardt, I. and Gosliner, T. M. (2006) Phyllodesmium rudmani (Mollusca: Nudibranchia: Aeolidoidea), a new solar powered species from the Indo-West Pacific with data on its symbiosis with zooxanthellae. Zootaxa, 1308: 31-47.


Michael Miller (Webmaster)
San Diego, Calif
Feb., 2007

---
Puerto Vallarta, Mexico
March 2005

---
© The Slug Site, Michael D. Miller 2007. All Rights Reserved.

---