Pruvotfolia sp.
Photo courtesy of Christiane Waldrich
Photo taken at Seraya Beach, Bali, Indonesia
Jan. 2007

Dive Guide Ketut Suarta at Blue Lagoon dive site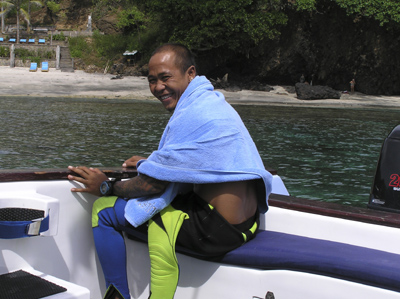 To bring in the New Year right, I decided along with the wife in January to go to one of my favorite branching areas in the Indo Pacific-Bali, Indonesia. With the help of Aqua Marine Diving Services located in Kuta Beach, I was able to put together a two week Nudibranch Safari with Aqua Marine making all the arrangements and providing a knowledgeable dive guide. I can't say enough about their excellent service and this statement is made without any financial incentives to do so. I paid the same as everyone else! One of my favorite spots in Bali is the drop off at Tulamben. Unfortunately as luck would have it and is entirely possible at this time of the year, a heavy rain had inundated the "drop off" site with silt reducing viz down to about 5 ft at times. Plan B immediately went into effect by establishing contact with Christiane Waldrich at Seraya and diving there. Some of the you readers may remember Michael Awe's review of this area a couple of years ago in I believe Asian Diver. In my humble estimation Michael has a tendency to hype dive areas at times, but at Seraya, he was right on target! I wouldn't recommend staying there or even using the resident dive operation. You can use the showers and rinse tanks on a day pass for a reasonable $5 US. They do require you dive with a guide, so have one handy!
On Jan 21st., Ketut made an great find that found its way to be this weeks BOW. Christiane and I both knew it was very different and accordingly took many pictures. In my case, video (Windows Media File around 3 megs) which didn't come out too well. My guide throughout the trip was Ketut Suarta and did he have good eyes! So diving with Ketut and Christiane was just a matter of following them around to video their amazing finds. The good folks at the California Academy of Sciences were able to steer us in the right direction identification wise to make this BOW possible and for this I am very grateful!



Michael Miller (Webmaster)
San Diego, Calif
Feb., 2007

---
Christiane Waldrich at Seraya Beach
Photo courtesy of David Lim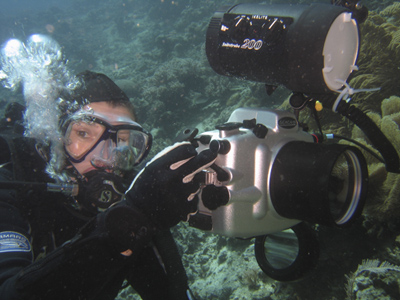 Christiane hails from Munich, Germany but spends most of the German winter at the Seraya Resort in Bali, Indonesia. She is an accomplished underwater photographer with a focused interest in Opisthobranchs. Her species list now exceeds 250 in number and growing every dive. Not bad for a shore frontage of less than fifty yards!

Camera wise Christiane is shooting a Nikon D-100 in a SeaCam housing with admirable results. She is very adept at finding the very small nudibranchs. What was really amazing was her ability to photograph sea slugs with neutral buoyancy irrespective of the heavy camera weight. Very impressive indeed!
---
Puerto Vallarta, Mexico
March 2005

---
© The Slug Site, Michael D. Miller 2007. All Rights Reserved.

---