Samla cf. sp. 4
Image courtesy of Anouk Houben
Anilao, Batangas, Philippines

Samla cf. sp. 4 (in NSSI 2nd Ed)
Previously included in the family Flabellina, Samla has been shown to be distinct, represented by a separate evolutionary line. Species are characterized by having perfoliate rhinophores, bearing a series of lamellae. These can be clearly seen in Anouk's photo here.
This undescribed species is translucent pinkish orange with opaque white specks on the body surface. The cerata have subapical white bands and orange apical bands.
Its geographical range is not well known, but includes Midway Atoll and the Philippines.



Dave Behrens
New Braunfels, TX
Sept., 2023
Send Dave email at davidwbehrens@gmail.com




Dave and Peg in Texas motif prior to move from
Washington to Texas
---
Anouk celebrating Birthday while in attendance
at Nudibranch Conference in Philippines, May 2023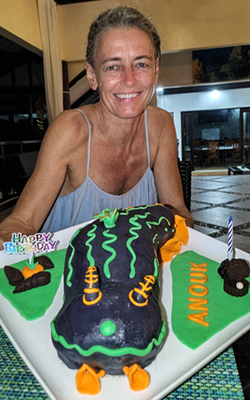 Anouk Houben hails from Belgium and is a keen underwater photographer and nudibranch enthusiast. She does most of her diving in Indonesia and the Philippines.

Over the years Anouk has taken part in a number of nudi workshops and expeditions of which most recently the citizen science workshop in Anilao with Terry Gosliner.

Anouk showcases her nudibranch photography on Instagram @nudibranch.ia.

Anouk's camera system consists of a Omsystems OM-1 and 2 Ikelite SD160 strobes.




---
From left to right, Terry Gosliner, Angel Valdes, Dave Behrens La Jolla, Calif. Send Dave email at davidwbehrens@gmail.com

---
© The Slug Site, Michael D. Miller 2023. All Rights Reserved.

---