Murphydoris adusta
Images courtesy of Micael Miller
Anilao, Batangas, Philippines
Screen Grab from Video

Murphydoris adusta Paz-Sedano, S., Smirnoff, D., Candas, M., Gosliner, T.M. & Pola, M. 2022
This is an interesting group of rather small phanerobranch dorids. They are actually more closely related to cryptobranch dorids than to species of phanerobranchs. This genus was resurrected by Sigurdson (1991) based upon specimens collected in Singapore mangroves. Species of Murphydoris have elongate extrabranchial appendages, smooth rhinophores and a reduced gill.
This species, previously referred to as Goniodoridella sp.6 in NSSI 2nd edition, is dark brown with areas of cream and minute white dots. The extrabranchial appendages are large and tuberculate.
The generic name Murphydoris was created to honor the zoologist and ecologist D. H. Murphy, who is on the staff at the National University of Singapore. The trivial name is from the Latin adustus, perfect participle passive of aduro, brown. Murphydoris adusta refers to the dark brown color of the body.
Only about 5 mm in length it has been documented from the Philippines and Madagascar. It is thought to feed on tunicates.
Reference:
Sigurdsson JB. 1991. A nudibranch, Murphydoris singaporensis, new genus and species, from Singapore mangroves (Mollusca: Opisthobranchia: Goniodorididae). Raffles Bulletin of Zoology 39: 259-263. SOFÍA PAZ-SEDANO, DIMITRI SMIRNOFF, MARÍA CANDÁS, TERRENCE M. GOSLINER and MARTA POLA. 2022. Rediscovering the overlooked genus Murphydoris (Nudibranchia: Goniodorididae): the first phylogeny and addition of four new species. Zoological Journal of the Linnean Society, 2022, XX, 1-20.



Dave Behrens
New Braunfels, TX
Jul., 2023
Send Dave email at davidwbehrens@gmail.com




Dave and Peg in Texas motif prior to move from
Washington to Texas
---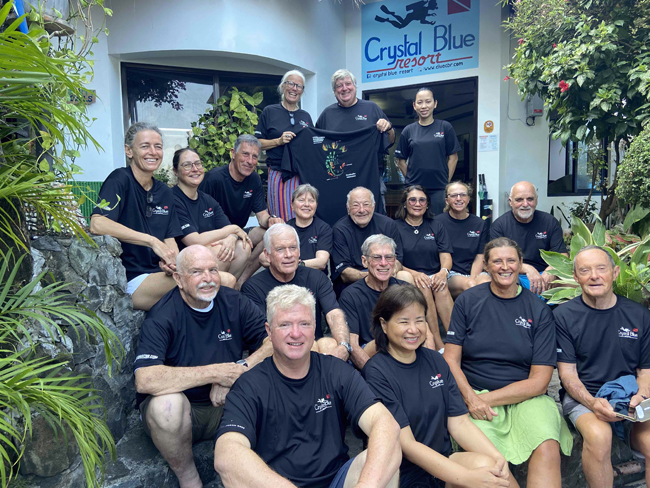 From May 10th to the 20th of May, I was fortunate to be a participant in what was billed as "THE FIFTH CITIZEN SCIENTIST NUDIBRANCH WORKSHOP " held at the Crystal Blue Dive Resort, Anilao, Batangas, Philippines. The event was hosted by moderator Dr. Terry Gosliner of the California Academy of Sciences. Jim Anderson from Scotland filled in as the data analyst compiling the many and I mean many images taken by the group on a day to day basis. Mike Bartick the GM at Crystal Blue Resort took care of logistics and made sure all participants left with fond memories!

More to come on this event in the coming weeks!

Michael Miller
Webmaster



---
From left to right, Terry Gosliner, Angel Valdes, Dave Behrens La Jolla, Calif. Send Dave email at davidwbehrens@gmail.com

---
© The Slug Site, Michael D. Miller 2023. All Rights Reserved.

---