Hypselodoris melanesica
Images courtesy of Micael Miller
Anilao, Batangas, Philippines
Screen Grab from Video

Hypselodoris melanesica Gosliner & R. Johnson in Epstein et al., 2018
This is one of the confusing Hypselodoris bullockii lookalikes. It is dark purple with a darker purple ring at the base of the gill and rhinophores. The gill and rhinophores are orange above the purple base. The gill is on a peduncle elevated from the notum.
Phylogenetic analyses suggests that H. melanesica is always sister to H. bullockii but forms a distinct clade. In H. bullockii, the body color is generally light pink to a deep purple. There may or may not be darker pigment at the base of the gill and the rhinophores. When present, the purple pigment is a wide band that is very diffuse, without distinctly defined edges. In contrast, H. melanesica is always light purple in color and always has well-defined narrow bands of darker pigment at the base of the rhinophores and gill.
Hypselodoris melanesica is named for Melanesia, the region to which this species is geographically restricted.
To 25mm in length, it has been found in Papua New Guinea, Solomon Islands and the Philippines.
Reference:
Epstein, Hannah E., Hallas, Joshua M., Johnson, Rebecca Fay, Lopez, Alessandra & Gosliner, Terrence M., 2018, Reading between the lines: revealing cryptic species diversity and colour patterns in Hypselodoris nudibranchs (Mollusca: Heterobranchia: Chromodorididae), Zoological Journal of the Linnean Society 20 (1), pp. 1-74 : 53-56


Dave Behrens
New Braunfels, TX
Jul., 2023
Send Dave email at davidwbehrens@gmail.com


Dave and Peg in Texas motif prior to move from
Washington to Texas
---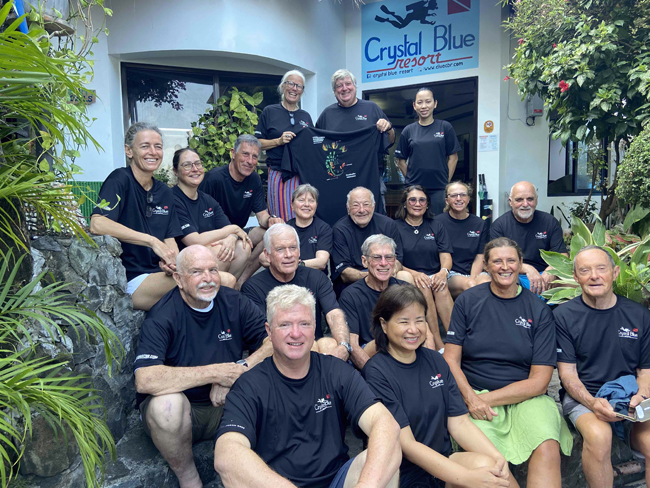 From May 10th to the 20th of May, I was fortunate to be a participant in what was billed as "THE FIFTH CITIZEN SCIENTIST NUDIBRANCH WORKSHOP " held at the Crystal Blue Dive Resort, Anilao, Batangas, Philippines. The event was hosted by moderator Dr. Terry Gosliner of the California Academy of Sciences. Jim Anderson from Scotland filled in as the data analyst compiling the many and I mean many images taken by the group on a day to day basis. Mike Bartick the GM at Crystal Blue Resort took care of logistics and made sure all participants left with fond memories!

More to come on this event in the coming weeks!

Michael Miller
Webmaster



---
From left to right, Terry Gosliner, Angel Valdes, Dave Behrens La Jolla, Calif. Send Dave email at davidwbehrens@gmail.com

---
© The Slug Site, Michael D. Miller 2023. All Rights Reserved.

---