Plocamopherus lemur
Images courtesy of Alan Sutton
Dar es Salaam, Tanzania
Est.Size 50mm


Photo by Alan Sutton
Plocamopherus lemur Valles & Gosliner, 2006

The species is named "lemur" to draw attention to the similarity in cryptic coloration of the nudibranch to this primate which resides in the type locality, Madagascar.

The body of this bioluminescent species is brownish covered with minute brown and orange dots. It has white pigment along the dorsal margins and down the tail, as well as on the tips of the gill, oral veil and rhinophores. It has three pairs of lateral appendages, with only the last pair forming a globular bioluminescent structure. This structure varies in color from brown to purple as in Alan's specimen, here.

Known only from the western Indian Ocean.

Thanks once again Alan for sharing!

Reference:

Y. Valles & TM Gosliner, 2006. Shedding Light onto the Genera (Mollusca: Nudibranchia) Kaloplocamus and Plocamopherus with Descriptions of New Species Belonging to These Unique Bioluminescent Dorids. The Veliger 48(3): 178-205.
Dave Behrens
Sammamish, WA 98074
Apr. 2023
Send Dave email at davidwbehrens@gmail.com

Field notes from Alan Sutton regarding his find:
"... I found this Plocamopherusat night on a shallow coral head ( 3 meters on low tide) in an area that nearly always has terrible visibility. The visibility was about 30cm or less and I could only be sure it was a nudi when I looked at the images later and a friend helped me identify it from the six appendages and the purple balls. I really had the wrong lens for such conditions and it was difficult to get it to focus, nxt time I go there I will use a different lens. I will be able to find the exact same coral head again. Covered in yellow brown algae. When I put the lights on it , it curled up which is how I noticed it.
It was about 50mm long and has the six appendages common to Plocamopherus with the purple balls only on the last two appendages , similar to P.lemur from Madagascar. It does not seem to match any of the known species that I can find..."
---
Alan Sutton on location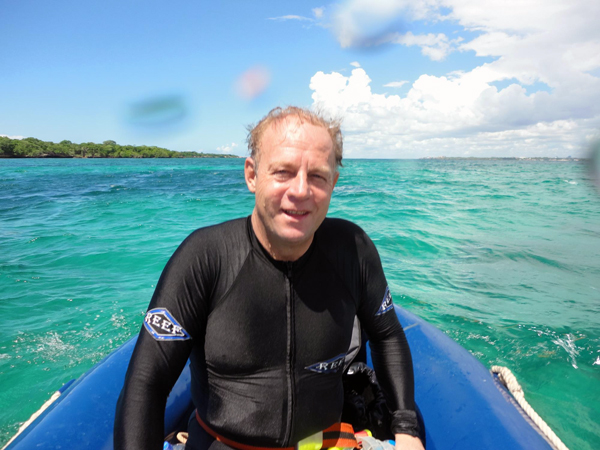 I am originally from South Africa, I was born in Durban in 1959 but spent most of my early life and school in Pietermaritzburg. I started diving at an early age, when I was about 4. I saw an article in a magazine with pictures of Jacque Cousteau with a mask on. My father had a pair of old flying goggles and on the next family holiday to the sea I took them with and tried them out. Needless to say they leaked but I got a glimpse of a few fish that I can still remember today.

I started free diving a lot in the holidays when I was about 12 years old, diving with my cousins who were into spear fishing and used to dive with the then South African Champions who taught me how to dive. I used to go along and watch. When I was at University in Durban where I studied Law and then Maritime Law, I dived a lot for crayfish, a hobby which I continued until I moved to Dar es Salaam in Tanzania in 1999. I had my first seawater fish tank when I was 16 and kept up the hobby until I moved to Tanzania.

In Tanzania I have dived Pemba Island, Zanzibar, Mafia Island, Kilwa and Mtwara all of which have world class diving. I have dived the Kwa-Zulu Natal North and South coasts extensively as well as the Transkei coast and also done some diving in Dahab in Egypt. My favorite dive spot ever is the north east point of Mafia Island. Big drop offs with a strong current and a lot of life ranging from small stuff to large trevally's, dog tooth tuna, very large bass and a few sharks.

I only switched across to Scuba about 7 years ago and have done about 700 dives maybe slightly more. I have Padi Rescue Diver and Deep dive qualifications. Usually I dive at least twice a week but sometimes up to six times a week if the conditions are good. I mainly dive with the Dar es Salaam Yacht Club , we have a dedicated dive boat and have 7 scheduled dives a week. We dive in the vicinity of Dar es Salaam either just north which has some good walls or just to the south which has some wrecks.
I got into underwater photography initially in the late 90's but only in a serious way when the first waterproof Olympus came out in I think 2009 or so. From that I went onto the first Sony RX100 and then a Canon 7d Mk I and today I use a Canon 7D Mk II in an Ikelite housing with twin DS 161 strobes and I use two Big Blue VL 2500 video lights as focus lights. I find these stronger focus lights make a big difference in getting sharp images. I have several lenses but really only use my Canon 24-70 F4 L lens. There is no real all round lens but this seems to come the closest for me. Using one flat port I can run from 24-50 for more wide angle shots and with another flat port I can run from 50 to 70 and use the macro function on the lens which doesn't give true macro but is close enough. It is quite a sharp lens. If I do wide angle I use a Tokina Tokina AT-X DX 10-17mm with a dome port. For Video I use a Canon G30 in an Ikelite Housing with two Big Blue Lights, one 33000 Lumens and one 20 000 Lumen video light.
I have a blog called seaunseen.com that I and a friend have as a hobby and the aim is to try to document the sea life in Tanzania. For years the Tanzanian coast has suffered from dynamite fishing but since November 2017 the Government have had a clampdown on it and it seems to have completely stopped. Beyond any question of a doubt we are also seeing more Nudibranchs and the fish life is rebounding amazingly well. I think we will have some world class diving in about two years time around Dar es Salaam. Visibility in Dar es Salaam varies from about 5 meters to up to at least 30 meters. On the the islands Pemba, Zanzibar and Mafia which have no rivers per se on them , in the right season visibility can be as good as it is possible to get with salt water.
Send Alan email at alan@robmarine.com

---
From left to right, Terry Gosliner, Angel Valdes, Dave Behrens La Jolla, Calif. Send Dave email at davidwbehrens@gmail.com


© The Slug Site, Michael D. Miller 2023. All Rights Reserved.

---