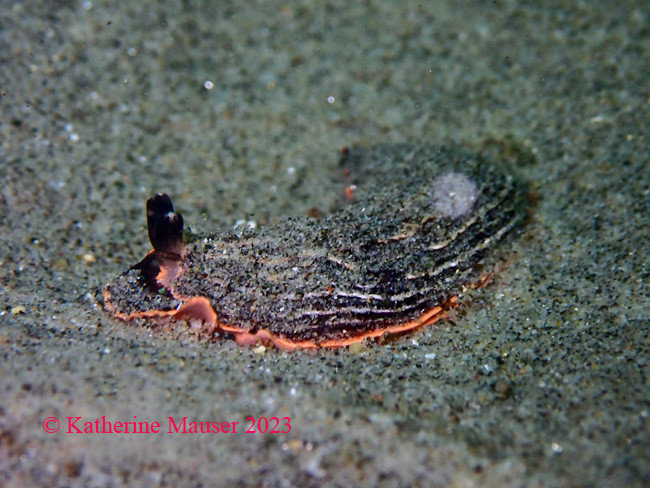 Armina sp. (Undescribed)
The black variation of Armina has been sighted again, this time by Katherine Mauser, after almost three years to the day, at the same location as Amy's.
Body is oval with wavy alternating ridges of white with black space in between. An orange line edges the foot and the black oral veil, and the black rhinophores.
Until a specimen is collected for close examination, it will not be known if it is a distinct species or a rare color variant of Armina californica. As noted from the sand covering the mantle, like A. californica, I am sure this is a burrowing species that feeds on sea pens, sea whips, and the sea pansy, Renilla.
We really need a specimen or two for genetic sequencing. Thanks, ladies, for sharing this interesting animal.
Photos by Amy Baldwin-Granger, and Katherine Mauser. La Jolla Shores, San Diego, California


Dave Behrens
Sammamish, WA 98074
Feb., 2023
Send Dave email at davidwbehrens@gmail.com