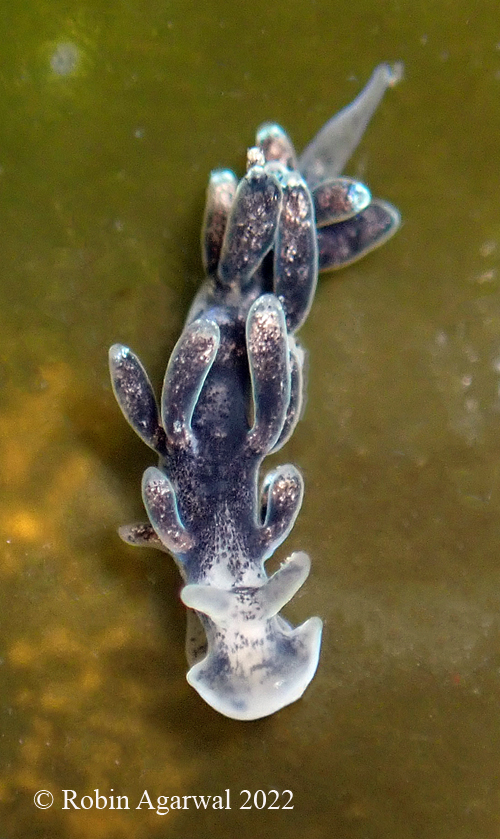 No specimens of Tenellia adspersa have been sequenced from the Eastern Pacific. It will be interesting to see if/how the specimen Robin collected is related to the ones that are already sequenced. Did you get all of that?
Adding to this new information we know that this species has two types of larval development, suggesting again, maybe we are dealing with two species. One produces a few large eggs which hatch out as small crawling young. The other produces more smaller eggs which develop into swimming veliger larvae, which do not feed in the plankton after hatching but quickly settle on the bottom and turn into a crawling slug. This short free-swimming larval stage may be an advantage for some populations, as it allows the young to move further from the parental home.
Not only are Robin's excellent photos of this species welcome, but also some ecological observations she has shared with Mike and I. "The specimen was found on drift kelp in the Quivira Basin, Mission Bay, San Diego, marina. The same kelp had Tenellia phoenix with eggs, Polycera atra, both Corambe species, and one small Triopha maculata." Wow - a Branchers party.
This species has an interesting behavior - when it crawls it flaps its frontal veil. Thanks to Robin and Karin for their great discoveries.
Dave Behrens
Sammamish, WA 98074
Apr., 2022
Send Dave email at davidwbehrens@gmail.com
Send Karin email at karin@milltech.com