Acanthodoris atrogriseata
Image courtesy of Jan Kocian
Greenbank, Whidbey Island, Washington

Acanthodoris atrogriseata O'Donoghue, 1927 (previously Acanthodoris pilosa)
Wow - Jan Kocian and Whidbey Island have produced another rare critter. He found this not so common dorid nudibranch on a mooring line overgrown with all kinds of stuff, mostly tunicates and bryozoans. His two photos really tell the biological story of this species.
This species, which feeds on bryozoans, has a body that varies from yellowish-white to black to smoky gray to golden-dark brown, with numerous conical, yellowtipped papillae. It can also have yellow flecks on body. The rhinophores are long and bend backwards. Acanthodoris hudsoni is a similar species but does not have curved rhinophores. Dark colored Acanthodoris lutea are also similar but have proportionately much shorter rhinophores.


Image courtesy of Jan Kocian
Greenbank, Whidbey Island, Washington
Jan even caught the egg ribbon seen at left which are highly characteristic for this genus of dorids.

What is cool about Jan's find is that this species is right in the center of its very narrow geographical range, occurring only from southern Alaska to Puget Sound, Washington; just a few miles compared with other species whose range is oceans wide.

Good show Jan.

Dave Behrens
Sammamish, WA 98074
Apr., 2022
Send Dave email at davidwbehrens@gmail.com

---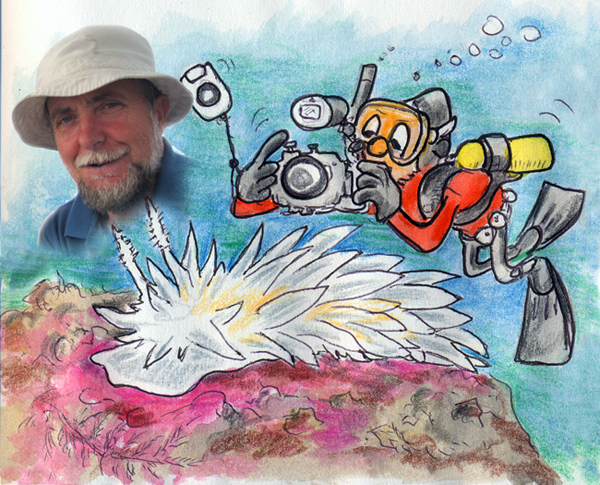 WEBMASTER'S NOTES : As most of you know, Jan has been a prolific contributor to the Slug Site! Jan combines his skills as an underwater photographer/naturalist with cartoon artistry that is unmatched in my humble opinion. Jan is the prototype of the "citizen scientist", a moniker many of us aspire to but few have achieved! Jan is a very keen observer of life in the waters around Whidbey Island, Washington. Rainy weather and cold water are his constant companions in his quest to unravel the many mysteries of his ocean realm!

Our hats are truly off to you Jan in recognition of your many contributions to better understand nature as we know it in the many communities that abound in its water world!


Send Jan email at honkoc@hotmail.com

---
From left to right, Terry Gosliner, Angel Valdes, Dave Behrens La Jolla, Calif. Send Dave email at davidwbehrens@gmail.com

---
© The Slug Site, Michael D. Miller 2022. All Rights Reserved.

---