Hermissenda crassicornis
Image courtesy of Jan Kocian
Lagoon Point, Whidbey Island, Washington

Hermissenda crassicornis (Eschscholtz, 1831) on variation -
- will the real H. crassicornis please stand up.
Just how variable can nudibranchs be? I get asked this question and argue about it all the time. If we use this terrific collection of photos by Brancher Buddy, Jan Kocian, as an example, it becomes readily apparent that variation within a single species can be huge.

Jan took all three photos of Hermissenda crassicornis variations on the same dive at Lagoon Point, Whidbey Island, Washington. Two of the critters were on the same piling.

This confusing discussion started when Jan sent us the main photo above, thinking it was a huge range extension for Sakuraeolis ensosimensis from San Francisco Bay in California. After days of head scratching and careful evaluation by my future coauthor, Karin Fletcher (she's amazing), who noted that our other future coauthor, Greg Jensen, had recently observed that both Hermissenda crassicornis and H. opalescens can have smooth rhinophores, we realized that it was a weird Hermissenda. Jan sent the following photos taken on the same dive.


Image courtesy of Jan Kocian
Lagoon Point, Whidbey Island, Washington
| | |
| --- | --- |
| | The first is a classic Hermissenda crassicornis with an orange-yellow rhomboid edged in white behind the rhinophores, white lines on the cerata and head tentacles and annulate rhinophores |
Image courtesy of Jan Kocian
Lagoon Point, Whidbey Island, Washington
| | |
| --- | --- |
| | His next shot to the left had some similarities, but also some confusing differences. Head marking were the same, there were also white lines on the cerata, but the rhinophores were smooth, and the line on the head tentacles barely reached halfway. |
Image courtesy of Jan Kocian
Lagoon Point, Whidbey Island, Washington
| | |
| --- | --- |
| | So now we go to the third critter found right next to our previous guy, and we see a barely discernable head mark, in fact just the white outline, similar to our main photo above. Notice there are just a few white lines on the cerata, and no lines on the head tentacles. Again, smooth rhinophores. |
Okay - so what do you think? I think this species demonstrates a very wide range of both morphological and color variations. Certainly, this makes the accurate identification of these guys difficult, if you do not have examples of all the variations to assist you. We hope to provide this in the upcoming revision of Eastern Pacific Nudibranchs. We are working on it as you read this.

Good show, Jan. Thanks for bringing this to our attention.

Dave Behrens
Sammamish, WA 98074
Mar., 2022
Send Dave email at davidwbehrens@gmail.com

---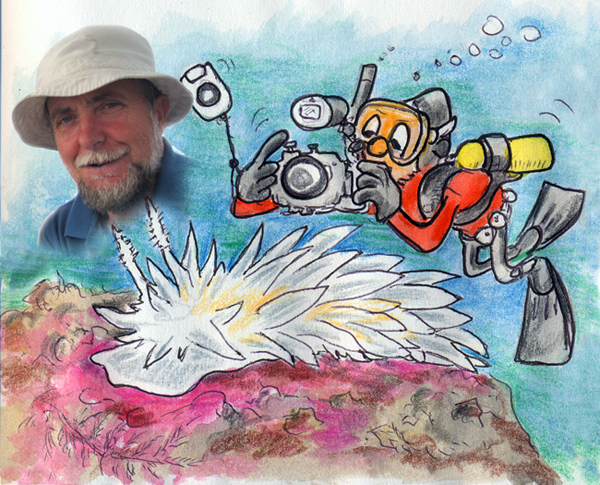 WEBMASTER'S NOTES : As most of you know, Jan has been a prolific contributor to the Slug Site! Jan combines his skills as an underwater photographer/naturalist with cartoon artistry that is unmatched in my humble opinion. Jan is the prototype of the "citizen scientist", a moniker many of us aspire to but few have achieved! Jan is a very keen observer of life in the waters around Whidbey Island, Washington. Rainy weather and cold water are his constant companions in his quest to unravel the many mysteries of his ocean realm!

Our hats are truly off to you Jan in recognition of your many contributions to better understand nature as we know it in the many communities that abound in its water world!


Send Jan email at honkoc@hotmail.com

---
From left to right, Terry Gosliner, Angel Valdes, Dave Behrens La Jolla, Calif. Send Dave email at davidwbehrens@gmail.com

---
© The Slug Site, Michael D. Miller 2022. All Rights Reserved.

---