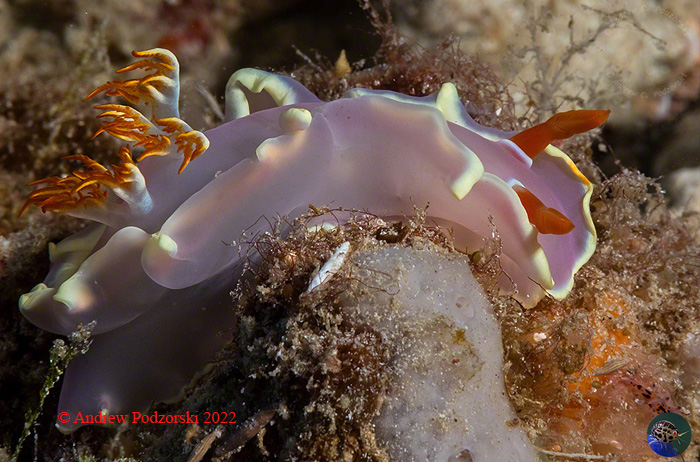 Hexabranchus sp. (juvenile, undescribed)
This one really threw a curved at us. I concluded that it was one of three chromodorid species, but was wrong on each. Terry Gosliner (California Academy of Sciences) hit it out of the park with a surprising identification. Turns out Terry and his team are examining the genus Hexabranchus and have learned that what we called the Spanish Dancer, Hexabrancchus sanguineus, is actually a species complex. You will have to wait for the paper to learn, just how many species it represents.
Now as for Andrew's critter, Terry pointed out the obvious, adding that it is the juvenile of one of the new species. What I overlooked was: 1) the characteristic gill, comprised of six distinct separate gill branches (hence its name), which are not retractile, and 2) that the margins of the mantle are beginning to roll characteristically over the dorsum. Once you realize these - bam - yep - Hexabranchus.
I would love to see Andrew's critter swimming, flapping its mantle like the adults do (see drawing below). That would be a sight to see.


Dave Behrens
Sammamish, WA 98074
Feb., 2022
Send Dave email at davidwbehrens@gmail.com