Nudibranchs of the World
by Helmut Debelius & Rudie H. Kuiter. 2007.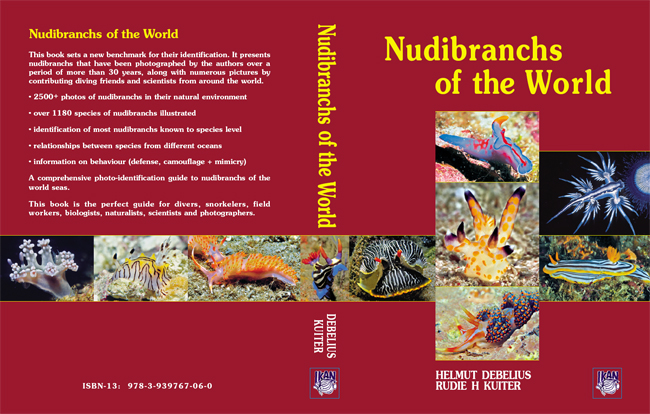 The new fantastic World Atlas of Nudibranchs by Helmut Debelius and Rudie H. Kuiter is out. It shows nearly 1200 species of the Nudibranchia (no other Opisthobranchia) figured on +2600 colour photographs. The quality of the photographs is unsurpassed in color rendition and resolution. The book's authors have gone to great lenghts to demonstrate locational color variation within a species, a feature that is sure to be appreciated. Unterwasser dive magazine of Germany has recently named Nudibranchs of the World as the book of the year! This book is a must for any and all sea slug enthusiasts!

Webmaster
San Diego, Calif
Oct. 2007


The book is in large letter format with 360 pages, section sewn hardcover. The weight is approx. 1750 gr. Retail-price is around € 50.- + VAT .
For Continental North America Contact:
Dave Behrens at dave@seachallengers.com
David Behrens
5091 Debbie Court
Gig Harbor, WA 98335
1-253-851-5622
www.seachallengers.com

Anticipated price in the US will be $89. Pls contact Dave for Details
Europe:
ConchBooks
D-55546 Hackenheim, Germany
Germanyphone: +49-671-66441 web-site: http://www.conchbooks.de

e-mail: conchbooks@conchbooks.de
Send Conchbooks email at conchbooks@conchbooks.de

Indonesia:
Aquasport
Tel: +62-21-7199045, Ms. Sofie
Email: sales@aquasport.co.id
Send Aquasport email at sales@aquasport.co.id

Philippines:
Pacifica Dive Center, Inc.
Tel: +63 917 8586481
Email: torben@pacificadive.net
Send Pacifica Email at torben@pacificadive.net

Australia + Oceania:
Ocean Enterprises
http://www.oceans.com.au/oe-ikan.html
Email: peter@oceans.com.au
Send Ocean Enterprises Email at peter@oceans.com.au

South Africa:
Dolphin Diving Services
Tel: +27124600746
Email: francois@oceandivers.co.za
Send Dolphin Diving Services Email at francois@oceandivers.co.za

Singapore:
Nature's Niche
Tel: 65-6475 2319
http://www.naturesniche.com
Email: nniche@singnet.com.sg
Send Nature's Niche Email at nniche@singnet.com.sg

Japan
Anthis Co., Ltd.
1-12-1 Yabuta, Okazaki,
Aichi 444-2137 Japan
Attn.: Mrs. Junko Maruoka
junko@anthis.co.jp
Send Anthis Email at junko@anthis.co.jp
TEL. 0564-25-3937

---
© The Slug Site, Michael D. Miller 2007 All Rights Reserved.




---