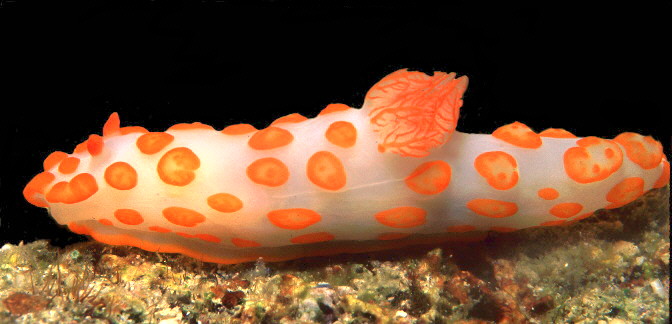 Gymnodoris rubropapillosa
---
Gymnodoris rubropapillosa (Bergh, 1905).
It was originally described from Indonesia and has also been found from Tanzania, Singapore and Hong Kong. Specimen pictured above was collected under high current conditions at a dive site called Bethlehem in Batangas, Philippines at a depth of approx. sixty feet in a sandy area. This finding culminated many years of fruitless searching for this elusive animal in the Philippines. A previous sighting was reported by Lynn Funkhouser in the Puerto Princesa area of Palawan, Philippines. Her picture appears in the book "Philippine Dive Versions" on page 124. The Webmaster also saw it during a diving visit with Dr. Bob Bolland in Okinawa ( Jan. 95). We are very interested in sightings by other branchers. Please e-mail terry with any information you may have.
---

The above information courtesy of:


Dr. Terry Gosliner
California Academy of Sciences
Send Terry mail at tgosliner@Calacademy.org
---
For those of you interested in the photographic background information of the images, the following may be of interest!
---
Camera System: Tussey T-300 underwater housing with FM-2/Nikon 60mm lens.

Strobe: Ikelite Ai

Film: Fuji Velvia

Site: Batangas, Philippines

Photo Editing: PhotoStyler 2.0 on 486 DX-2 33 mhz/ 64 megs RAM
---
© The Slug Site, Michael D. Miller 1995, 1996, 1997. All Rights Reserved.






---