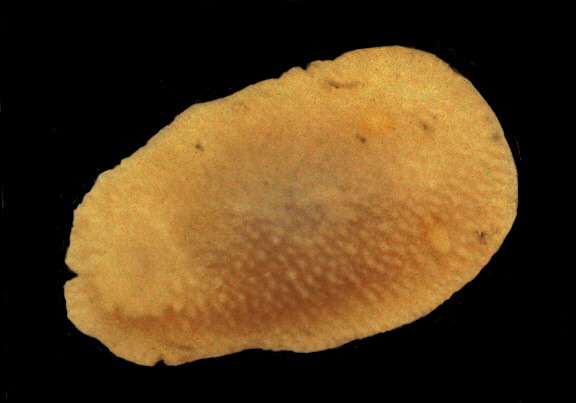 Calycidoris guentheri
---
Calycidoris guentheri Abraham, 1876
The distribution of this species is given as European and Asian Artctic seas, Spitzbergen to the Chukchi Sea, and south to the central Bering Sea, north of the Pribilof Islands. This individual was taken by otter trawl during a research cruise in the northeastern Chukchi Sea in September 1991. It was observed occasionally, usually associated with rocky substrates and sponges. For additional information on Chukchi Sea mollusks, see Feder et al. 1994 Arctic 47 (2) :143-163.
---

The above information courtesy of:


Nora R. Foster

Coordinator, Aquatic Collection

University of Alaska Museum

University of Alaska Fairbanks

Send Nora mail at fyaqua@aurora.alaska.edu
---
For those of you interested in the photographic background information of the images, the following may be of interest!
---
Camera System: Minolta X-700

Strobe: Sunpak Flash

Site: Chukchi Sea, Photographed specimen was taken at 70 22N, 167 53W

Photo Editing: PhotoStyler 2.0 on 486 DX-2 33 mhz/ 64 megs RAM
---
© The Slug Site, Michael D. Miller 1995, 1996. All Rights Reserved.





---