Phidiana bourailli
Pt Cartwright, Mooloolaba, Sunshine Coast
Queensland Australia
Photo courtesy of Gary Cobb


Phidiana bourailli (Risbec, 1928)

Original placed in the genus Aeolidia by Risbec, this species was then transferred to Facelina (also incorrect) and now finds itself in the genus Phidiana. Poor critter – Marshall & Willan (1999) suggest it might be more accurate to place it in the genus Cratena. Hummmmmm.
In any event, this is another species included in Cobb & Willan's recently released, Undersea Jewels (see below). Their specimens were collected at Gary's favorite intertidal spot along the Sunshine Coast – Alexandra Headland . This very photogenic species has a complicated coloration. The cerata are dark, almost black, with longitudinal white streaks. It has two series of red spots and dashes which begin at the front of the head, pass between the rhinophores, and continue in a broken series down the dorsum. The rhinophores are quite interesting having very large flanges. The oral tentacles are long with two red bands separated by white specks.
This is a small aeolid, reaching only about 18 mm in length. It is more commonly found only 7 to 12 mm, however. It is found in shallow depths, under dead coral where it is thought to feed on thecate hydroids. The species has been recorded from Queensland, North South Wales, the Marshall Islands, Japan (Nikano, 2004; Ono, 2004), and in more recent correspondence from Francis Pellet , Lembeh Straits, Indonesia.
Dave Behrens
Gig Harbor, Washington
Dec. 2006

---
Alex searching tide pool area at Pt Cartwright where he found Phidiana bourailli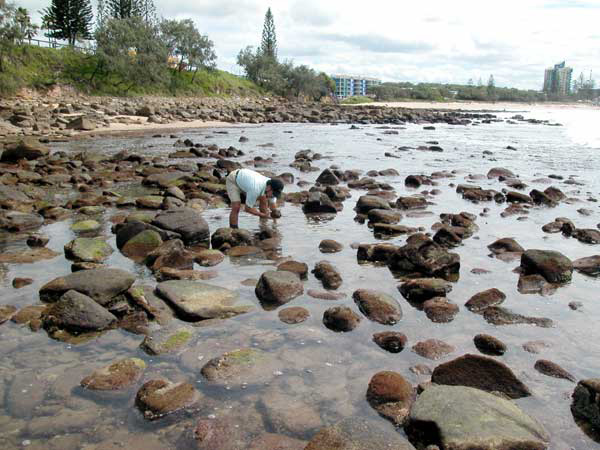 UNDERSEA JEWELS

.

by Gary Cobb & Richard C. Willan. 2006.

310 pages filled with over 700 photos of 277 species of sea slugs from the Sunshine Coast of Australia (off Brisbane). For many of the species photos in close ups of gill, rhinophores, notual texture, underside of foot and eggs, etc. Several new occurrences to eastern Australia are noted.

In Australia - $60 AUS
In the US from Sea Challengers - $45, plus $4.00 handling (USD)


Contact Dave at dave@seachallengers.com

David Behrens
5091 Debbie Court
Gig Harbor, WA 98335
253-851-5622
www.seachallengers.com

---
Taxonomic information courtesy of:



---
© The Slug Site, Michael D. Miller 2006. All Rights Reserved.

---