Janolus fuscus
Photo courtesy of Blair Carmichael
Photo taken Langley tire reef on Whidbey Island,Washington

Janolus fuscus (O'Donoghue, 1924)

Almost every year Webmaster Mike puts a Janolus on his home page to celebrate the Christmas holiday season. To most of us this awesome nudibranch reminds us of a decorated holiday tree. Last year when I was working with Jan Kocian designing special occasion cards, Jan even came up with the idea of using Janolus fuscus as the lighted candles on a birthday cake .
When Blair sent Mike this photo I only had to screech, what happened to all those beautiful cerata? Then Mike pointed out that with the cerata autotomized (the cerata were purposely detached as a defense strategy when disturbed by some predator) you can now clearly see the gut and circulatory system leading to the gill structures (cerata to some).
In his shot we can also see an egg ribbon being laid, and the curious anatomical structure (the caruncle) located between the rhinophores. While this structure is highly layered, giving it a huge surface area for chemical reception, the function of the organ is still unknown.
You will note from Blair's photo that Janolus fuscus can be distinguished from Janolus barbarensis , to the south by the extension of the gut into the gill structures. Those in J. barbarensis are branched, while those in J. fuscus are not.
Dave Behrens
Gig Harbor, Washington
Sept., 2006

---
Blair Carmichael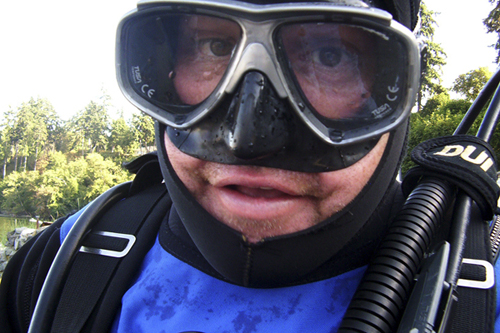 I grew up in the PNW on Whidbey Island. Only going in the waters a few times with a mask, and snorkel. The water there is cold with just a swimsuit!

Started diving in the mid 90's when I moved to the Bay Area of California.

I wasn't really interested in the little stuff then. It wasn't till I took a camera underwater that I slowed down to take a look. Then I was fascinated by the colors and verity of creatures to be found. Now it's all I do.

Photos were taken with a Nikon D100 with a 60mm lens.

Send Blair email at blaircarmichael@yahoo.com

---
Puerto Vallarta, Mexico
March 2005

---
© The Slug Site, Michael D. Miller 2006. All Rights Reserved.

---