Chromodoris gleniei

Similan Islands, Thailand
Photo courtesy of Lanai Bayne

Chromodoris gleniei (Kelaart, 1858)
Hereís a critter that will blow your socks off. The Sea Slug Forum reports this Chromodorid to be a relatively uncommon species. The coloration is very disctinctive, being the only species with the brown medial patch with deep purple or black markings, and an undulating margin. The other species having an undulating pattern on its dorsum is Chromodoris coi .
Lanaiís photograph shows the variations in the coloration of the bands along the margin of the mantle, one having a bluish band the other a mauve color (a feature also shared by Chromodoris coi). The underside of the mantle in dark purple, only observed when the species is flapping its mantle, a behavior thought to enhance respiration. This behavior is common in other Chromodorids such as C. geometrica, C. hintuanensis, C. tritos, C. charlottae and C. coi .
The species was originally described from Sri Lanka, and subsequently from Tanzania, Madagasscar, the Solomons and the Maldives. We can now add the Similan Islands, Thailand, to itís distribution. Specimens reach about 5 cm in length.
Dave Behrens
Gig Harbor, Washington
June 2006
---
Lanai doing what he likes best!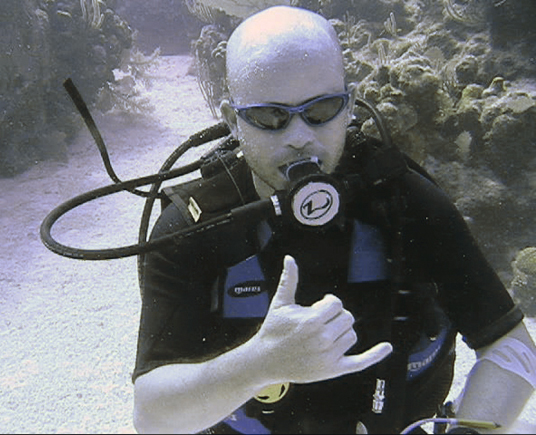 Lanai Bayne is orginally from Boulder, Colorado, but is now working and living in Wiesbaden, Germany. Lanai worked in Roatan, Honduras for several years as a PADI Instructor and have also done some non-teaching freelance diving projects around the world; expeditions, hyperbaric chamber work, etc. For now, Iíve traded in my board shorts and wetsuit for a suit and tie and have a marketing/sales job for a tech company.

To quote Lanai

"....My camera is nothing special and Iím looking forward to a significant upgrade soon. I use a Canon Power Shot A70 with the Canon housing. Most of the nudibranch shots are taken on the ďsportsĒ setting, manual flash on and in macro mode.

Note: NO CORAL OR MARINE LIFE WAS TOUCHED OR DAMAGED TO CAPTURE ANY OF MY PICTURES!

I am extremely environmental when it comes to marine life and believe no trace of a diver should be left. I wish everyone felt that way; our reefs would be much healthier..."

Send Lanai email at skibum2k9999@yahoo.com


---
Puerto Vallarta, Mexico
March 2005

---
© The Slug Site, Michael D. Miller 2006. All Rights Reserved.

---