Thorunna speciosus
Photo courtesy of Webmaster
"River Area" Tulamben, Bali, Indonesia
Sept. 2005
Size approximately 7mm

Thorunna speciosus Rudman, 1990 – Filling in the Gap?
According to the Sea Slug Forum , Thorunna speciosus is known only from Port Stephens, New South Wales, Australia, with a possible sighting from Seragaki , Okinawa, by Bob Bolland. Could it be that Webmaster Mike's observation here – Fills in the geographic gap between these two disjunct localities?
Another tiny chromodorid (reaching only about 8mm), Mike's specimen has the characteristic orange band along the edge of the mantle, and the wide anterior patch on the head which is specific to this species.
As a kicker, Mike was able to make a short quicktime video-clip of the animal foraging across the substrate. Head tentacle and mouth are clearly alert looking for its sponge prey. We often think sea slugs are slow movers, but Mike's clip clearly shows that some species can move right along.
Thanks Mike.
Reference:
Rudman, W.B. 1990. The Chromodorididae (Opisthobranchia: Mollusca) of the Indo-West Pacific: further species of Glossodoris, Thorunna and the Chromodoris aureomarginata colour group. Zoological Journal of the Linnean Society 100: 263-326.
Dave Behrens
Gig Harbor, Washington
April, 2006

---
Puerto Vallarta, Mexico
March 2005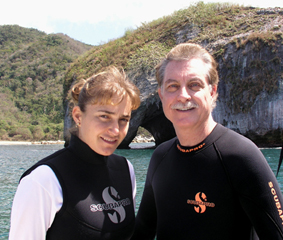 Ali Hermosillo and Dave Behrens

Co Authors EASTERN PACIFIC NUDIBRANCHS

"...Everyone loves nudibranchs. Or so it seems to those of us who dive, snorkel, tide pool, surf the web, or are concerned about oceans' biodiversity. Truly beautiful, biologically intriguing, they deserve to be treated beautifully and intelligently. Dave Behrens and Ali Hermosillo totally fulfill this demanding task for excellence in their new book, Eastern Pacific Nudibranchs: A Guide to the Opisthobranchs from Alaska to Central America..."

For this and more, be sure and read a review by Hans Bertsch which incidentally is also being published in The Festivus 38 (3): 34-36, an publication of the San Diego Shell Club.

Author: Pacific Coast Nudibranchs
Co-Author Coral Reef Animals of the Indo Pacific
Proprietor of Sea Challengers Natural History Books

Send Dave mail at dave@seachallengers.com

---
© The Slug Site, Michael D. Miller 2006. All Rights Reserved.

---