Palio nothus ?
Photo courtesy of Jan Kocian

Palio nothus (Johnson, 1838) or Palio dubia (M. Sars, 1829)

In the 1st and 2nd editions of Pacific Coast Nudibranchs, I referred to this species as Polycera zosterae. It has always been very rare, few people ever collecting it, and certainly no mention of it in the north eastern Pacific in the scientific literature, except for O'Donoghue's description of P. zosterae .
While preparing the new edition of Eastern Pacific Nudibranchs, fellow Brancher Jeff Goddard pointed out to Ali and me that what I had called P. zosterae, was difficult to distinguish from the earlier description of Palio dubia by M. Sars in 1829 and that of Palio nothus (Johnston, 1838).
Jan Kocian came across several specimens at Whidbey Island, Washington on a particularly productive branch dive last week. He sent photos to me stating he "was dubious of his find of the Dubious Dorid" (species 106 in EPN). Well he wasn't.
After reviewing several messages on the Sea Slug Forum concerning P. dubia and Polycera nothus . I am completely confused, so I contacted Jeff to replay his past comments.
Here is what Jeff had to say:
"...The animal depicted in Behrens (1991) and Behrens & Hermosillo (2005) externally resembles Palio nothus as described and depicted by Thompson & Brown (1984) and Picton & Morrow (1994), especially in color pattern, shape of the dorsal tubercles, and length of the rhinophores, and the number of rhinophoral lamellae. If Polycera zosterae as described by O'Donoghue is separate from Palio nothus (see below), then Palio nothus might actually have been introduced (via shipping or oyster industry?) to the west coast (if they are the same, then it's much easier to envision P. nothus simply being circum boreal).."
The animals I found (but unfortunately did not photograph) in Prince William Sound (Goddard & Foster, 2002) matched Palio dubia. Bergh's 1880 description of Palio pallida (based on a single specimen from the Aleutians) as best I can tell also matches P. dubia.
The question is where does O'Donoghue's original description of Polycera zosterae fit in? He describes a fairly uniform coloration, which seems to fit P. dubia , but the 6 rhinophoral lamellae he described better fits P. nothus. The dorsal tubercles described by O'Donoghue could go to either P. dubia or P. nothus, but do seem to better fit P. dubia as depicted by Picton. Maybe P. zosterae is actually a valid 3rd species from the NE Pacific, one represented by Jan's animal from Washington, which has relatively uniform coloration, 6 or 7 rhinophoral lamellae, and tubercles which seem like they could go to either P. dubia or P. nothus..."
Whichever species it is, Jan has even captured this species eggs , laid while feeding on the bryozoan Bugula . Good show Jan.
P. nothus is recorded from the British Isles north to Arctic Circle and across to North America (Picton & Morrow, 1994). P. dubia has been reported from the Sea of Japan, Prince Williams Islands, Alaska toLa Paz, Baja California and Nayarit, Mexico. Combined this is a pretty typical nothern temperate distribution, for other speecies like Onchidoris bilamellata and Acanthodoris pilosa. One thing is certain – a detailed comparison is needed between the North Atlantic and North Pacific species.


Dave Behrens
Gig Harbor, Washington
Apr. 2006

---
Jan Kocian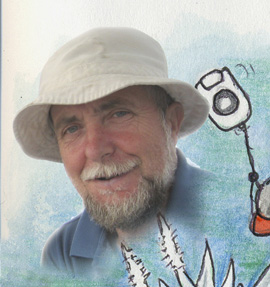 I was born in landlocked Czechoslovakia, but diving became my love early in life, getting my certification in the fresh cold waters of old quarry, before wet suits were available to the diving public behind the " Iron Curtain ".

After emigrating from there in 1968, the sea stayed close to my heart. I worked on research ships in the Pacific, enjoying the warm waters of the tropics for many years.

Not until I retired to Whidbey Island in Washington State I started to pay closer attention to the smaller creatures of the underwater world. And what a wonderful realm it is. After caves, wrecks and grand vistas, I am just beginning to discover the beauty of macro world.

My camera rig consists of a Nikon Coolpix 5400 digital camera in a Epoque housing with a single Epoque ES-150 DEX strobe.

Send Jan email at honkoc@hotmail.com
---
Puerto Vallarta, Mexico
March 2005

---
© The Slug Site, Michael D. Miller 2005. All Rights Reserved.

---