Halgerda willeyi
Photo courtesy of Bob Yin
Photo taken at Pearl Farm Resort, Samal Island
Davao, Mindanao, Philippines

Halgerda willeyi Eliot, 1904 (Revisited)

While it is hard, if not impossible to say which of the Halgerda's is the most beautiful, beauty being in the eye of the beholder, Halgerda willeyi is definitely one of my very favorites.
This simply gorgeous shot really shows of the delicate features of this species. Rigid bodied, the soft curves and subtle hues of color, provide an interesting contradiction. The subtle elegance of Uncle Bob's photo above is not shared by all specimens of this species as seen by the variability of shape and color patterns reported on Bill Rudman's Forum . A look back at BOW 11 (Wow you guys – that was done back in 1998) is an indication of that observation (Darn – Terry hasn't changed a bit. And he still has my flexible flashlight).
This species reaches 5 cm in length and is found throughout the western Indo-Pacific. W


Dave Behrens
Gig Harbor, Washington
Feb., 2006

---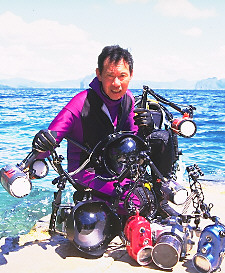 As an active member of the San Diego Underwater Photographic Society (SDUPS) , Robert Yin has been taking underwater photographs world-wide for over 30 years, specializing in the Philippines. His photographs have appeared in many magazines and books including Skin Diver, Ocean Realm, Discover Diving, Philippines Airlines' Mabuhay Magazine, Action Asia, Asian Diver, National Geographic, Trauchen, Espacio Profundo, Sport Divers Journal, and scientific journals. Bob was recently named Advanced Underwater Photographer for the year 2005 by SDUPS.

He has won many photographic awards including Nikon Photo Contest International. He was a presenter at the 1986, 1990, 1992, 1994 and 1998 San Diego Underwater Film Festivals. His photos have been exhibited in galleries including Sea Center Santa Barbara, S. Birch Aquarium-Museum San Diego, Cabrillo Aquarium, Manila Hotel and the Monterey Aquarium.

Bob's photo was taken with a Olympus 8080 in an Olympus underwater housing using two (2) Inon 220 Digital Strobes.
For those of you that have kids, you might be interested in Bob's series of books on Marine Life For Young Readers .

For the adults, Bob has a coffee table book "Beneath Philippine Seas" based on his extensive diving experience in the Philippines.

Send Bob mail at ryin1@san.rr.com

---
Puerto Vallarta, Mexico
March 2005

---
© The Slug Site, Michael D. Miller 2006. All Rights Reserved.

---