Dendrodoris stohleri
Photo courtesy of Hans Bertsch



PHOTO OF DR. STOHLER, 1969 MEETING OF THE WSM,
COURTESY OF DR. JAMES McLEAN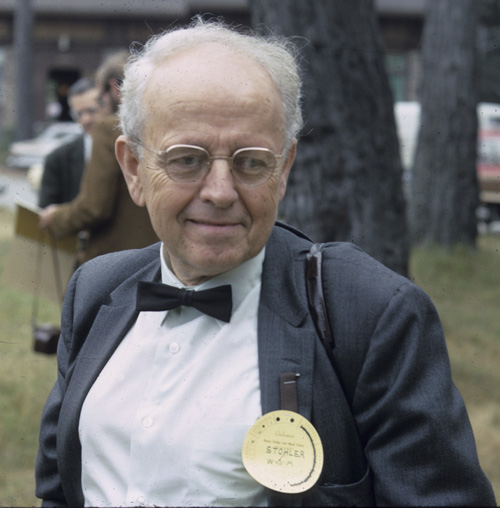 Dendrodoris stohleri, Millen & Bertsch, 2005



            I first met Dr. Rudolf (Ruedi) Stohler at the second Western Society of Malacologists meeting in Pacific Grove, California, in 1969. It was a veritable Who's Who of malacology (see the historic photograph published by the WSM in the Abstracts and Proceedings of their second annual meeting). Dr. Stohler was the WSM Mentor-Parliamentarian; he wore a suit coat, white shirt, bow tie, wire-rimmed glasses, and a swath of almost unruly white hair.

            Along with A. Myra Keen, Dr. Stohler had been instrumental in founding the WSM. The special emphasis of this new society in helping students was clearly stated in its first conference summary (The Echo 1:2): "High on the list of aims of the Western Society of Malacologists is the resolve to include students interested in the field of malacology.
To encourage them to take an active part, the Society waived the registration fee, and provided lunch for the students on the day they appeared on the program."



PHOTO OF DR. STOHLER, 1973 MEETING OF THE WSM,
COURTESY OF DR. JAMES McLEAN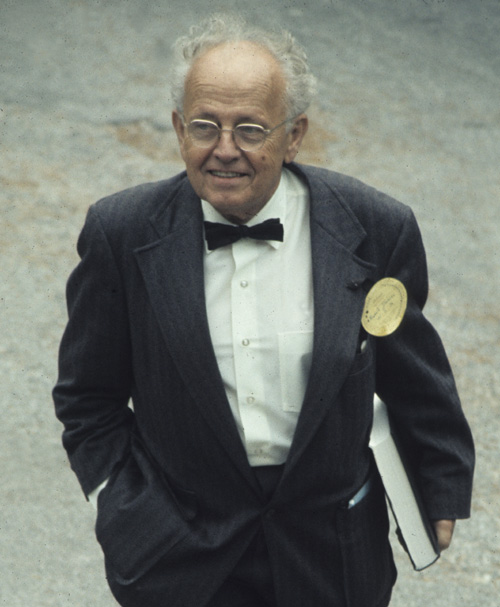 On page i of the Memorial Issue of The Veliger (volume 43, number 4), editor Dr. Barry Roth published the following brief biography of Dr. Rudolf Stohler (1901–2001):

            "Rudolf (Ruedi) Stohler, Founding Editor of The Veliger, died of heart failure on April 24, 2000, at his home in Berkeley, California. He is survived by his wife of 70 years, Genevieve, of Berkeley, his five children, seven grandchildren, and six great grandchildren. Born in Basel, Switzerland, on December 5, 1901, Dr. Stohler attended universities in Basel and Geneva, earning Ph.D.'s in Zoology and Botany. He first traveled to the United States in 1928 as the recipient of an International Exchange Fellowship; there he met and married Genevieve Emerson. They returned to Switzerland after completion of his fellowship and then returned to the United States in 1932. In 1933, Dr. Stohler was appointed Research Associate at the University of California, Berkeley, where he taught classes in zoology and biology, collected and preserved specimens for zoology classes, and was Curator of the Museum of Invertebrate Zoology until his retirement in 1969. In 1941, he became interested in mollusks and started a personal shell collection. In the early 1950's, along with several colleagues, he founded the Northern California Malacozoological Club, and in 1958, he became Editor of The Veliger, the club's newsletter. Under Dr. Stohler's editorship, The Veliger evolved into a prestigious international journal with readers in over 90 countries.
Dr. Stohler retired as Editor of The Veliger in 1983 a the end of the twenty-fifth volume of the journal. Throughout his tenure as Editor, Dr. Stohler served as a mentor of young malacologists just starting out in their profession; for many of them The Veliger was the first journal in which their work appeared—thanks to the encouragement and tutelage of Dr. Stohler."

            The very large number of young malacologists who began their professional careers with scientific presentations at WSM meetings or publication in The Veliger is certainly a fitting tribute and memorial to Dr. Stohler.

 

            Including Dendrodoris stohleri, there are 9 species of porostome nudibranchs from the genera Doriopsilla and Dendrodoris from the eastern Pacific (between Alaska and Central America).

            The genus Doriopsilla Ehrenberg, 1831, is characterized by synapomorphies of an eccentric anus (to the left), a flat, non-tubular prostate gland, and buccal ganglia that are dorsal to the esophagus but close to the central nerve ring. They have one duct to their bursa copulatrix. There are five species in the eastern Pacific: Doriopsilla albopunctata (Cooper, 1863); D. gemela Gosliner et al., 1999; D. janaina Marcus & Marcus, 1967; D. nigromaculata (Cockerell in: Cockerell & Eliot, 1905); and D. spaldingi Valdés & Behrens, 1998.

            The genus Dendrodoris Ehrenberg, 1831, is characterized by synapomorphies of a soft body, lacking spicules even when tubercles are present, and a posterior mouth located within a deep notch of the foot. Internally, there are paired ptyaline (oral) glands with a muscular duct and small esophageal glands. Buccal ganglia are far posterior on the esophagus, just in front of the esophageal (salivary) glands. There are usually two ducts to the bursa copulatrix. The four eastern Pacific species are: Dendrodoris arborescens (Collingwood, 1881) [previously in the literature as: D. krebsii (Mörch, 1863) and D. fumata Rüppell & Leuckart, 1831]; D. azinae Behrens & Valdés, 2004; D. behrensi Millen & Bertsch, 2005 [see BOW # 495: http://slugsite.us/bow/nudwk495.htm ]; and this week's BOW, D. stohleri Millen & Bertsch, 2005.

            Living animals of this species have a low, elongate-oval body, with a moderately sized, slightly crenulate margin. They reach a maximum length of about 30 mm. The notum is smooth. The straight rhinophores have 8–10 lamellae sloping posteriorly from an anterior ridge to meet posteriorly in a V. There are 6–7 tripinnate gills.

            The ground color is pale cream to dark golden yellow. Small irregular black spots (varying in size and shape) are scattered on the dorsum. The rhinophores are slightly darker than the ground color and may have a few black spots. The gills are the same as the ground color and may also have a few spots.

            Internal anatomy is fully described in the original manuscript naming this species.

            To date, the only known locality where D. stohleri occurs is within Bahía de los Ángeles (29º 0' N; 113º 30' W), in the Gulf of California, Mexico, where it is restricted to the islands and outer shore locations.

Dr. Hans Bertsch
Imperial Beach, Calif
Jan. 2006





---
Hans and Rosa in Panama City, Panama, after dinner with Jesus Troncoso and Paco Garcia and their families.
All attended the VI meeting of the Congreso Latinoamericano de Malacologia.
---
© The Slug Site, Michael D. Miller 2006. All Rights Reserved.

---