Janolus sp.
Photo courtesy of Denis Riek
Brunswick Heads, Australia

Janolus sp.
Janolus sp. (undescribed) When Denis sent Webmaster Mike this great shot he correctly identified this critter as an undescribed species. This beauty is featured on the cover of Takamasa Tonozukaís book Opisthobranchs of Bali and Indonesia , and can be found on page 297 of Debelius , page 104 of Coleman , page 234 in Rie Nakanoís book , and finally page 234 in Atsushi Onoís book .
What is interesting about this particular specimen is the white encrustation seen on some of the cerata. I cannot explain the random distribution of these encrustations. Otherwise it has all the diagnostics of members the Arminid genera Janolus. On the Sea Slug Forum, this species is listed as Janolus sp. 4
Also interesting is its similarity to Bonisa nakaza Gosliner, 1981 from South Africa. Species of Bonisa differ from Janolus in lacking branches of the digestive gland in their cerata, which are not clearly discernable in Denisí specimen.
A compilation of the recorded localities for this species includes: Australia, the Solomon Islands, Maldives, Indonesia, Papua New Guinea, the Philippines and even the Red Sea. For being so common it is surprising to me that itís still undescribed.
Reference:
Gosliner, Terrance M. 1981. The south African Janolidae (Mollusca, Nudibranchia) with the description of a new genus and two new species. Annals of the South African Museum, 86(1): 1-42.


Dave Behrens
Danville, Calif
Jun. 2005



Webmaster's Notes : As luck would have it, Alan Grant just sent me a DV tape with video clips from his most recent dive trip that included Janolus sp. How forunate and timely! For all you branch videographers out there, the Slug Site is now in a position to run your video on a streaming basis. All that is needed is a *.AVI clip. Please contact me my email for my snail mail address if your interested in contributing! In the meantime, if your are on broadband and have Windows Media Player installed, enjoy Janolus sp. by Alan Grant!
---
Denis Riek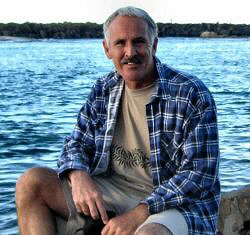 I'm in my mid fifties and married with two grown kids.Spent my early years working as ground staff with Qantas Airways in Sydney, then escaped the rat-race and headed north.My greatest passion is surfing(to my wifes great displeasure) but I have also had a lifelong fascination with invertebrate marine life, especially molluscs.Collected shells when I was younger but would rather now just collect images of living marine life. I have no qualifications in marine studies, a total amateur, but I still get blown away when I see something new while diving. Cant afford tanks and all the associated tackle, whereas snorkelling is cheap and keeps me fit. Have only been taking underwater shots for about 3 years so I'm still a learner.Started with a Pentax K in a home-made housing and flash unit and last year broke the bank and bought an Olympus C-5060 and housing.I wish had enough for an external flash as well but I compensate by doing what Garry Cobb did and put a lens on the front of the housing and using the internal flash with a little bit of zoom.Its not always successful but I get by.Digitals seem to want think for themselves so sometimes I have to move to shallow water and use natural light.
Have almost finished a site on local species but I dont know when that will be on line as that also costs money and at the moment I'm flat out like a lizard drinking,(Old Aussie saying!) getting my daughter through University.Never mind, as long as I wake up breathing I cant complain. Well thats about it. I suppose "old surf dog who loves sea slugs" sums me up.Some of my surfing buddies think its a wierd fascination but I know your readers will understand.

I hope to have a site devoted to local species up and running in the near future.I am living at Brunswick Heads, just a couple of miles north of Byron Bay on the east coast Australia.I snorkel regularly in the small river here and have come across some very interesting species at times. I have attached an image of a Janolus species,which, like a couple of other Janolus I have found here, appears to be unnamed.It was found on the sea wall here in 3-4 metres. Due to the current,and the fact that I dont have an external flash, I moved it to shallow water and shot it in natural light.Other species of Janolus have been observed feeding on clumping species of bryozoans(Catinicella sp) but as for this one I cannot say.It measured 60mm and was quite spectacular.I found it during August 2004(winter here) and saw another later in the month, just before some heavy rain flushed the river out. I am using an Olympus C-5060 that I have had for nearly a year and am really glad I went digital, so easy when you can just plug into a computer and there it is, no waiting for films to come back.



Denis Riek
Brunswick Heads
June 2005


Send Denis email at dwriek@optusnet.com.au
---
Puerto Vallarta, Mexico
March 2005

---
© The Slug Site, Michael D. Miller 2005. All Rights Reserved.

---