Tritonia diomedea ,Bergh 1894 and Aglaja ocelligera (Bergh, 1894)
This week's – Opisthobranch of the Week, is just for the fun of it. After seeing Jan's artistic reenactment of a recent diving encounter with two of the common sea slugs in his area, I just had to share it with you (above). Jan Kocian from Whidbey Island, Washington, e-mailed me a photo , asking for the identification of the little spotted slug, apparently being followed by a large Tritonia diomedea. Although it is really hard to see the important definitive characteristics, I am calling this critter Aglaja ocelligera rather than Melanochlamys diomedea, both common to the waters of Puget Sound. The feature most often used, but difficult to see here, is that A. ocelligera has a long conspicuous tail, longer on one side than the other.
Jan, who loves to photograph "Branchs" is obviously a pretty darn good artist. His sketch above reminds me of that classic scene from FINDING NEMO, where the diver scares the poop out of NEMO's father, but in reverse.
The occurrence of these two species together is surely just coincidence, as Tritonia (featured in two previous ( 1 , 2) BOW's feeds on sea pens, and Aglaja, most probably feeds on polycheate worms. It is not uncommon to find either foraging over sandy soft bottoms as seen above.
Good show Jan. If you ever loose you day job, like me, you have a real talent to fall back on.


Dave Behrens
Danville, Calif
Jun. 2005

---
Jan Kocian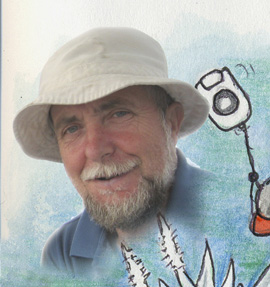 I was born in landlocked Czechoslovakia, but diving became my love early in life, getting my certification in the fresh cold waters of old quarry, before wet suits were available to the diving public behind the " Iron Curtain ".

After emigrating from there in 1968, the sea stayed close to my heart. I worked on research ships in the Pacific, enjoying the warm waters of the tropics for many years.

Not until I retired to Whidbey Island in Washington State I started to pay closer attention to the smaller creatures of the underwater world. And what a wonderful realm it is. After caves, wrecks and grand vistas, I am just beginning to discover the beauty of macro world.

My camera rig consists of a Nikon Coolpix 5400 digital camera in a Epoque housing with a single Epoque ES-150 DEX strobe.

Send Jan email at honkoc@hotmail.com
---
Puerto Vallarta, Mexico
March 2005

---
© The Slug Site, Michael D. Miller 2005. All Rights Reserved.

---