Sagaminipteron psychedelicum
Photo courtesy of Philibert Bidgrain

Sagaminipteron psychedelicum Carlson & Hoff, 1974
Well the name says it all for this species. Psychedelic is an understatement. This species was named by friends Clay Carlson and Patty Jo Hoff, who are my peers in life and certainly familiar with those crazy years of the late 60's and early 70's psychedelia.
Philibert's specimen here was observed in only about 50 cm of water in Etang Salé les bains" lagoon, Reunion Island, way out in the middle of the Indian Ocean. This bubble snail is easily identified because of its characteristic psychedelic pattern of colorful spots and patterns on the mantle. Clay and Patty Jo share a photo of a juvenile on the Sea Slug Forum. Even as a baby slug you can easily see it's psychedelic color pattern.
Several species, like Sagaminopteron psychedelicum, have a semitransparent or translucent patch just behind the anterior siphon (in the above photo to the right). This patch is just above each of the developing eyes and let's light can get through the skin, to them.
We can clearly see a sting of eggs coming out of the mantle cavity of Philibert's specimen. Entire egg masses look like these provided by Nishina Masayoshi . Like many other cephalaspideans, the mass is a tangled pile of egg strings.
To date no one is sure what this little 8-10 mm species feeds on, but it is speculated that may graze on small flatworms, living on sponges.
Beautiful shot Philibert. I love it. Thanks for sharing.
Reference:
Carlson, C.H. & Hoff, P.J. 1974. The Gastropteridae of Guam, with descriptions of four new species (Opisthobranchia: Cephalaspidea). Publications of the Seto Marine Biological Laboratory, 21(5/6): 345-363.
Dave Behrens
Danville, Calif
Apr. 2005

---
Philibert searching sea slugs in "Moheli Island",
a little island of Comoros (Mozambique channel, Indian Ocean)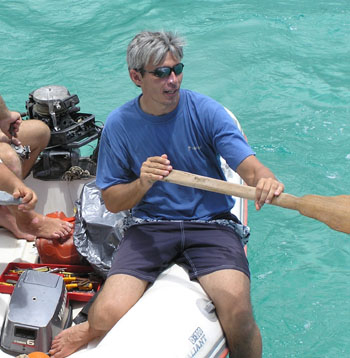 As a biology teacher in Reunion Island (Reunion Island is situated in the Indian Ocean, approximately 750 km east of Madagascar.) for 14 years, I have been taking part in the activities of "Vie Océane", an association dedicated to the information of as wide an audience as possible, and above all school children, about the "World of Corals". Divers, photographs, teachers and Reunion Island University researchers are counted among its members.

Hence, "Vie Océane" participates in research work such as health coral reef monitoring, the inventory of the biodiversity and so on. For some time, I have taken over the works of Dr Maurice Jay (a specialist in molluscs presently working on microgasteropods) concerning sea slugs in Reunion and neighbouring islands (Mauritius Is , Comoros Is, ...). I'd welcome any information, document, photo of Reunion Island sea slugs so as to supplement our knowledge and data bank.

All species described in this Island are listed and discribed in my website. Reunion Island Sea Slugs website

The photo was taken with a Digital camera, C750 ultra zoom.(Olympus), in its Olympus housing. I don't use flashlight, there is only about 10-20 cm deep, and it was summer light....

Send Philibert email at pbidgrain@yahoo.fr


---
Puerto Vallarta, Mexico
March 2005

---
© The Slug Site, Michael D. Miller 2005. All Rights Reserved.

---