Baeolidia japonica
Photo taken at dive site Basura, Anilao, Batangas, Philippines
Photo courtesy of Constantinos Petrinos and Carine Schrurs

Baeolidia

japonica Baba, 1933
For over three years I had been calling this critter an undescribed Phyllodesmium. It wasn't until I say photos of it on Bill Rudman's site , Jun Imamoto's site and the Heaven's Ocean web sites that I learned I was wrong.
The species was originally placed in the genus Berghia, named after one of the most prolific nudibranchologists in the world, Professor Rudolph Bergh. Its species name demotes the locality that it was original described from by Dr. Kikutaro Baba.
The specimen shown here was found in the Philippines. The reason I had thought it was a Phyllodesmium was because of the greenish-brown network of digestive glands on the topside of the flattened cerata. This is characteristic of several species of Phyllodesmium, such as P. longicirrum and P. hyalinum . This suggests that the species may utilize zooxanthellae to produce sugars for its own nutrition, thereby qualifying as a Solar Sea slug. The features that confused me were the papillate rhinophores (in Phyllodesmium the rhinophores are smooth) and the blue foot and the blue pigment on the undersides of the cerata. No described Phyllodesmium had this, nor did any of the Phyllodesmium. spp's we were aware of. The rhinophores and blue markings on the inside of the cerata distinctively ID this species asBaeolidia japonica.
I believe that this specimen, photographed by Constantinos and Carine, constitutes the first occurrence outside of Japanese waters. Good show guys.
Dave Behrens
Danville, Calif
Feb.. 2005

---
Constantinos Petrinos and Carine Schrurs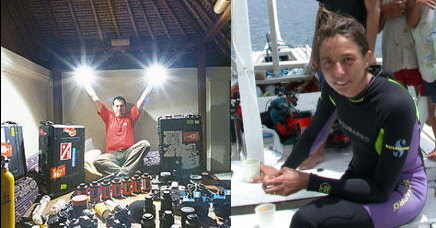 Constantinos Petrinos is a full time professional underwater photographer. He was born in Athens in 1961 and spent his early childhood in Cameroon, Africa. While growing up he aspired to become a marine biologist but more practical considerations led him to business studies. He obtained a Master's in Business Administration from Dartmouth College in the USA. A while ago he decided to free himself from business suits and suffocating ties and dive the world's oceans.
Other than snorkeling, Carine Schrurs , had no great interest in diving until she started sailing and crossed the Atlantic. After watching the dolphins in the Azores and snorkeling with sea lions in the Galapagos, she decided that it would be nice to follow them past her free diving capabilities. Upon her return to Europe, Carine became a PADI instructor and set off to dive the world oceans. Most of her underwater photography was done in Spain, Indonesia, Philippines, Thailand, Maldives and the Caribbean. Carine is currently working with Constantinos Petrinos on a book project about the biology and behavior of nudibranchs with marine biologist, David W. Behrens.

Constantinos's photographs have won awards at many competitions, including the BBC Wildlife Photographer of the Year. His articles and photos have appeared in various magazines, such as BBC Wildlife, Tauchen, Der Spiegel, Duiken, Dive, Oceans Illustrated, Skin Diver, Scuba Diver Australasia and the Greek editions of National Geographic and National Geographic Traveller. He is the photographer on location for the Hellenic Institute of Marine Archaeology, which conducts underwater excavations in conjunction with the Greek Ministry of Culture. Constantinos is the underwater photography expert for the Nikon Owners Club International. Throughout the year, Constantinos conducts slide shows in Greek schools, to promote marine awareness. He is a Fellow of the Royal Photographic Society.

Constantinos prefers to stay on location for a minimum of two months when working on major projects. He believes that you need to spend many hours underwater to familiarise yourself with the particular habitat and the species present in order to be able to capture behavioural scenes on film. For his book, Realm of the Pygmy Seahorse , he spent five months in Sulawesi and took 25,000 slides.

Send Contantinos mail at constantinos@petrinos.com
or visit his Web Site .
---
Taxonomic information courtesy of:



---
© The Slug Site, Michael D. Miller 2005. All Rights Reserved.

---