Doto sp.
Photo courtesy of John Greenameyer
Milne Bay, PNG


Doto

sp. undescribed - Magnifico

When John and Mike first shared this remarkable creation to me I literally fell off my chair. Can you believe this one?

I am calling this species an undescribed Doto because of the pulpit shaped rhinophores. From there on, your guess is as good as mine. I have never seen anything like this. Looks to me like there are 5 pairs of ringed cerata. They are shaped like a wooden honey dipper, with three ridges. Each ridge has a repeating color pattern of wide black band, flanked above and below by a thinner white band, each which a gold outline. There is a similar pattern along the edge of the foot, with a white band followed by a black band, topped with a metallic gold band. There are several more gold lines down the body.
Wow. What a trip? The only problem is - we know nothing more about this species other than John captured these amazing shots on a hydroid colony, the typical food of Doto's.

Hopefully we can a specimen or four someday. Thanks John.

In the meantime, enjoy a short video by John of our strange Doto !

Dave Behrens
Danville, Calif
Jan. 2005





---
John Greenamyer and Webmaster at Running Springs
Photo courtesy of Alan Grant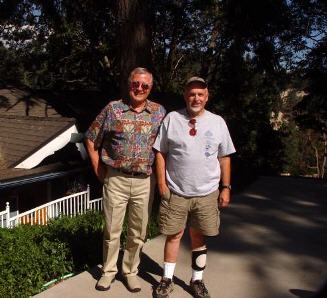 John Greenamyer has been diving some twenty-four years with a macro u/w photography pursuit using both still photography and video. His favorite diving areas are PNG and Indonesia with an emphasis on PNG, especially the Milne Bay region so popularized for its "muck" photographic opportunities. As of late he has been keeping company with Roger Steene and Neville Coleman on his travels to PNG and will be diving with them again in the next couple of weeks.

Alan Grant and myself took a Sunday off in August to travel up to visit John and immerse ourselves in some four hours of still and video photography of branchs. John has some outsanding macro video footage of branchs that hopefully will appear in the near future on a sister site this Webmaster is in the process of setting up for streaming video.

When he's not diving, John and his wife reside in Running Springs, California, in the Los Angeles area. He has his own graphic arts business in Cerritos, California.

---
Taxonomic information courtesy of:



---
© The Slug Site, Michael D. Miller 2005. All Rights Reserved.

---