Thuridilla picta
Taken at Cozumel, Mexico
Photo courtesy of Jim Lyle


Thuridilla picta

(Verrill, 1901)
Previously referred to as Elysia picta (see Gosliner, 1995), this brighly colored sacoglossid is common in the Mexican Caribbean. Although pretty small (up to 12 mm in length), this species is often found crawling out on sandy bottoms as seen here in Jimís photo, where it can be easily detected. Searching through tufts of green algae will also produce specimens.
The color patterns of this species make it impossible to confuse with any other species. The edge of the parapodia begins with a broard red-orange band, followed by black, blue and then yellow bands. There are yellowish white specks on the lower portion of the body and at the tips of the rolled rhinophores.
The species is common throughout the Carribean, including Florida, Bahamas, Jamaica, Bermuda, Curacao, and it has also been reported from the East Atlantic at the Canary Islands , and Cape Verde Islands, Madeira.
References:

Gosliner, T.E. 1995. The genus Thuridilla (Opisthobranchia: Elysiidea) from the tropical Indo-Pacific, with a revision of the phylogeny and systematics of the Elysiidae. Proceedings of the California Academy of Sciences, 49(1): 1-54.
Dave Behrens
Danville, Calif
Jan. 2005

---
Jim Lyle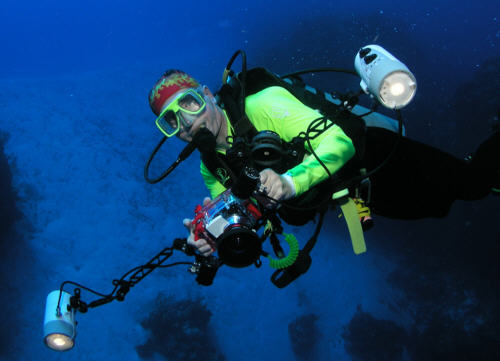 Hello, my name is Jim and I love slugs...well, maybe not the ones in my garden. I'm a retired chemistry professor. My wife, Deborah, and I have been active scuba divers for fourteen years. We live in Southern California where we can dive year-round and travel to warm water locations as often as we can - always on the look out for nudibranchs. For many years, I was happy with an inexpensive Aquashot film-camera/housing that I used to take underwater snapshots for our photo albums. After seeing the wonderful images that Roger Carlson was capturing with his digital setup, with his help I made the transition to the digital "dark side." My current camera rig is an Olympus c5050 in an Olympus PT-015 housing with dual Ikelite DS-125 strobes. (Roger is a fellow branchophile and has contributed to the BOW - Hypselodoris californiensis ) .
Each August we spend two weeks scuba diving in Cozumel, Mexico. Although there are several species of branchs in the Caribbean, Cozumel is not noted for them. It was during a safety stop on the sand atop Santa Rosa Wall that I found the Thuridilla picta . Over the years, I had seen a couple before, but they were almost microscopic; this specimen was a giant among T. picta, about half an inch long. It was a very exciting find and I motioned Judy Carlson over to take a look. An artist, Judy makes glass beads of sea creatures, including nudibranchs .

This was a extra special trip to Cozumel as we found nine species of branchs; in addition to Thuridilla picta: Hypselodoris ruthae, Chelidonura hirudinina, Gastropteron chacmol, Berthelina engeli, Cyerce cristallina, Aplysia dactylomela, Plurobranchieaa inconspicua, and Platydoris augustipes. Dave Behrens graciously helped with the identification of some of our finds.

A report about our trip to Cozumel and pictures of all the nudibranchs .

A report and images of sixteen+ nudibranch species here in So Cal .

My web page .
---
Taxonomic information courtesy of:



---
© The Slug Site, Michael D. Miller 2005. All Rights Reserved.

---