Phyllodesmium sp.
Taken at the Wall Old Woman Island, Sunshine Coast, Mooloolaba, Queensland Australia
Size: 31 mm, Depth 12 meters
Photo courtesy of Gary Cobb


Phyllodesmium sp. (undescribed)
The first time we saw this outrageous aeolid nudibranch is when Bob Bolland reported it from Okinawa. On Bill Rudman's Forum it is listed as Phyllodesmium sp. 2.. There is really nothing like it described.
The species has the most amazing cerata . They are covered with a series of large pointed spines that decrease in size towards their base. I can't decide if the spiny shape reminds me of a cactus or a medeavil war club. The spiny appearance seems to make this species very cryptic on its soft coral prey, much like P. jakobsenae. Branches of the liver diverticlum extend into the tip of each of these spines. I am not certain if the cerata of this species contain cnidosacs with nematocysts or not. It doesn't look like it.
The rhinophores are smooth and the white body is covered with small lines and blotches of brown with contain zooxanthellae obtained from the soft coral this species feeds upon. The presense of the zooxanthellae make this species a member of the Solar Powered Sea Slugs club. These microscope plants cells (actually dinoflagellates) carry out photosynthesis while sequestered in the aeolids tissue, providing sugars and other nutrients to the host nudibranch.
We are aware of specimens from Papua New Guinea , Okinawa , Manado - North Sulawesi courtesy of (Bill Rudman's Sea Slug Forum), and Gary's specimen here.
If you bump into this beauty - Please send specimens.
Dave Behrens
Danville, Calif
Dec. 2004

---
Gary Cobb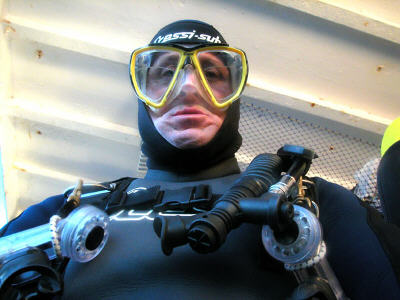 I guess you could say I am an art director, graphic designer, illustrator, cartoonist, font designer, typographer, fine artist, web designer, diver and underwater photographer that moved from Los Angeles to the Sunshine Coast, north of Brisbane Australia, in 1990. In 1996 Gary and wife Jan launched Cobb Creative, a full service advertising and design studio

My first book, The Peak Baggers Guide to the Sunshine Coast was published in 1996 and my video Walking the Overland Track, Tasmania has been acclaimed as a must for anyone considering hiking this world heritage trail.

I was a skydiver/instructor for 15 years and after accomplishing all that I set out to do, Jan and I took up diving together. I have the tendency to get to the bottom and slowly work my way around searching for the beautiful little things occasionally catching a glimpse of something bigger gliding by. My mission is now to record the opisthobranchs of the Sunshine Coast. In two years, I and dive buddy David Mullins have recorded 180 species that can be viewed at Gary and David's nudibranch site. Nudibranchs of the Sunshine Coast , Australia . I tend to refer to nudibranchs as Jewels of the Sea. My area of interest is from Moreton Island to Noosa. My favourite dive site is Old Woman Island off Mudjimba Beach. "The surrounding reefs of the island are a branchers paradise!" I find the night dives here are better than the Great Barrier Reef.
Greg Riddell of Sunreef Scuba Diving Services and I recently broke the Guinness World Record for Longest Submergence on a single tank of air for 7 hours 40 min 14 sec breaking the old record by 15 minutes.

My underwater camera gear is a Nikon Coolpics 5000 with a 512mb card (200 plus hires jpeg photographs), Subal housing, twin Inon strobes. You'll usually see me wearing twin scuba tanks on dives because redundency is important and 'dive time is picture time'. I just don't see the value of spending limited time underwater and taking a camera the only yields 36 shots that aren't guaranteed. You have more options with digital.

The Nikon Coolpics has an option called 'Optical Zoom'. I found it very difficult to use underwater...refused to focus at max zoom. I bought a 110mm magnifying glass and a piece of PVC pipe and attached it to the port of the housing. See attached. Underwater I take it off to flood the air out and walla! I have fast focussing. "Saga" was shot this way and I think it works great! The close up world is looking just fine. OH! Saga was just short of 10mm long. I also put a magnifier on the rear viewing window. See attached .

Send Gary email at gary@nudibranch.com.au

WEBMASTER'S NOTES: Well, once again it has been demonstrated that a little ingenuity goes a long way in a digital approach to super macro underwater photography. Gary has certainly found a solution in his quest to photograph sea slugs, regardless of their size. I would like to personally thank Gary for sharing his technique with the rest of us.
---
Taxonomic information courtesy of:



---
© The Slug Site, Michael D. Miller 2004. All Rights Reserved.

---