Bornella anguilla
Photo courtesy of John Greenamyer
Milne Bay, PNG


Bornella anguilla

Johnson, 1984

How would you greet this "Trick-or-Treater" if it came to your door this Halloween? Man – I think I'd just die. This amazing species looks like something you would see at a Chinese New Year parade. Just look at the facial expression. Makes you wonder whos behind that mask.

The genus Bornella belongs to the Dendronotina. The genus has many similarities in shape and natural history to members of the aeolids. Members have a series of cerata-like structures on each side of its elongate body and they feed on hydroids. The cerata-like gills do not carry nematocysts like most aeolids.

The rhinophores are on long stalks which bear a ring of long pointed papillae. The oral tentacles are very elaborate sensory appendage, shaped like a hand with long fingers. The name "anguilla" meaning eel, refers to its method of swimming. Most species of Bornella can swim by a lateral flexion of their body. B. anguilla uses a muscular wave that travels down the body to produce an eel-like swimming motion.

A key diagnostic for this species is the characteristic mosaic-like color pattern on the body. This relatively large species of Bornella, grows up to 80mm in length. This species is found throughout the Indo-Pacific being reported from South Africa to Australia, including Myranmar, Indonesia and Fiji.

On the west coast of Mexico we have Bornella sarape and in the Caribbean we have B. calcarata courtesy of Bill Rudman's Seal Slug Forum.

Happy Halloween – Oh yes, and…….. Trick or Treat?

Reference:

Johnson, Scott. 1984. A new Indo-West pacific species of the dendronotacean nudibranch Bornella (Mollusca: Opisthobranchia) with anguilliform swimming behaviour. Micronesica, 19(1): 17-26.

Dave Behrens
Danville, Calif
Nov. 2004





---
John Greenamyer and Webmaster at Running Springs
Photo courtesy of Alan Grant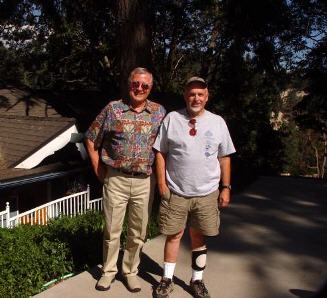 John Greenamyer has been diving some twenty-four years with a macro u/w photography pursuit using both still photography and video. His favorite diving areas are PNG and Indonesia with an emphasis on PNG, especially the Milne Bay region so popularized for its "muck" photographic opportunities. As of late he has been keeping company with Roger Steene and Neville Coleman on his travels to PNG and will be diving with them again in the next couple of weeks.

Alan Grant and myself took a Sunday off in August to travel up to visit John and immerse ourselves in some four hours of still and video photography of branchs. John has some outsanding macro video footage of branchs that hopefully will appear in the near future on a sister site this Webmaster is in the process of setting up for streaming video.

When he's not diving, John and his wife reside in Running Springs, California, in the Los Angeles area. He has his own graphic arts business in Cerritos, California.
---
Taxonomic information courtesy of:



---
© The Slug Site, Michael D. Miller 2004. All Rights Reserved.

---