Dendrodoris azineae
Photo courtesy of Clinton Bauder
Still taken from video footage
Carmel Bay, California


Dendrodoris azineae

Behrens & Valdes, 2004

The first known collection of Dendrodoris azineae was made in 1977 in a benthic trawl sample taken by Dr. Rim Faye and Robert Henderson of the then Pacific Biomarine Laboratories, of Venice, California. The collectors noted that it was notably distinct from all other porostomes on this coast. Periodic trawls in the same area over the next several years failed to produced any additional specimens. This specimen has subsequently been lost. On July 12, 2000, Clinton Bauder took the photograph above in about 54 m, in Carmel Bay, California. Bauder and his team of deepwater technical divers have searched for another specimen ever since with no success. Additionally, there have been several sightings of this species from 45-54 m, respectively in La Jolla Canyon, San Diego, California by George Spalding III. You may recognize the name "Spalding" from Doriopsilla spaldingi Valdés and Behrens, 1998. Here again specimens were not collected. Finally another specimen turned up. George collected a 2½-inch beauty in La Jolla Canyon, San Diego County, California, on March 14, 2004, also at a depth of 54 m.

The general color of the living animals varies from opaque white to a creamy-tan. The margin of the notum is slightly ruffled and is edged with a white band. The clavus of the rhinophore is deep purple, below which the shaft has dense patches of the same purple on the posterior side. The gills are also purple.

The body is oval, high, lacking spicules. The dorsum is smooth, with no tubercles. The tail is transluscent white. The rhinophores are perfoliate with 17 lamellae. The gill is composed of six bipinnate leaves which are somewhat separated from one another. The anus is central between the branchial leaves.

Thus far the species is known from La Jolla Submarine Canyon, Sycamore Banks, offshore of Malibu, California and Carmel Bay, California.

The name azineae was chosen at the request of George Spalding, who collected the Holotype . It was named in honor of his daughter Azine, who gives him the inspiration to continue his deep dives in search of new marine species in the La Jolla submarine canyon.

References:

Behrens, D. W. & Angel Valdes. 2004. A New Species Of Dendrodoris (Mollusca, Nudibranchia, Dendrodorididae) From The Pacific Coast Of North America. Proceeding of the California Academy of Sciences. 55(xx): xx-xx.

Valdés, A. & D. W. Behrens. 1998. A new species of Doriopsilla (Mollusca, Nudibranchia, Dendrondorididae) from the Pacific coast of North America. Proceedings of the California Academy of Sciences 50: 307-314.

Dave Behrens
Danville, Calif
Oct. 2004





---
George and daughter Azine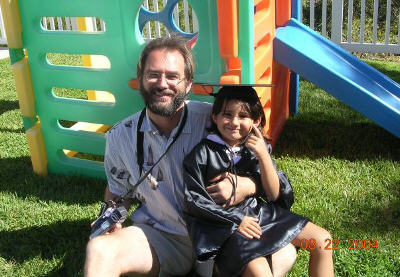 George E Spalding III has been a certified diver for the over 18 years. George is a PADI Divemaster, and leads weekly dives for the University of California, San Diego SCUBA Club, the Sea Deucers. He has logged well over 2000 dives. Most of these dives have been in San Diego, CA, though George has dived in the Channel Islands, Monterey and Carmel, Other Pacific Ocean diving experience includes La Bufadora, Todos Santos Islands, and Santo Tomas, located in Baja California, and Hawaii. He has dived the Florida Keys, and Cabo San Lucas, Cabo Pulmo, Loreto and Bahia de los Angeles on the Baja California side of the Sea of Cortez, Grand Cayman Island and the Gulf of Aqaba in the Red Sea. George found Dendrodoris azineae deep in La Jolla Canyon. For ten years he had been on the trail of this animal. Twice before he had spotted it, but circumstances prevented collection. The third time was the charm. Since he already has a nudibranch named after himself, he decided that his daughter Azine should be the namesake for this one. Like his daughter, D. azineae is a rare and beautiful thing. He hopes Azine will have many good years of show-and-tell with this.

Send George email at ges3@excite.com
Webmaster's Notes : I want to extend a personal thanks to George, Azine, Clinton, Dave, Angel, and Eric Hanauer for making this BOW possible. Back in March when I got George's frantic message about the find, there was little I could do to help due to travel commitments. Eric Hanauer, a local professional photographer graciously took the time to record the only pictures of the San Diego specimen. Eric has his own website and it is well worth visiting.
It would seem that George's diving skills are only exceeded by his literary skills as evidenced by his prolific message traffic on a local diving list server (Dive Bums). It is also very obvious that George has a great unabiding love of the sea and spends a lot of time at La Jolla shores and Scripps exploring the many secrets this shoreline has to offer. As with Clinton, this curiosity takes him to depths and a world that most divers seldom have the temerity to seek entry. For this, the rest of us are (deeply) grateful for their sharing and a bird's eye glimpse of this worldl!!
---
Taxonomic information courtesy of:



---
© The Slug Site, Michael D. Miller 2004. All Rights Reserved.

---