Hypselodoris fucata
Photo courtesy of Lindsay Warren
KwaZulu-Natal, South Africa
Dec., 2001

As promised, here is a shot I took of Hypselodoris fucata Gosliner & Johnson, 1999 which appears to be endemic to South Africa. It was found on 21 December 2001 by Valda Fraser while we were diving at a site she and her husband, Mike, call 'Pink Bush' which is off Park Rynie, KwaZulu-Natal, South Africa. Depth: 90 ft, water temp: 73F, Size: 40 mm. This specimen is particularly beautiful as the red and purple areas are very intense
On 10 March I found another 40 mm specimen at 80 ft when diving off Park Rynie again but at a different site with large, flat rolling slabs covered in 'balls' of algae, bryozoans and various sponges. Then on 8 April 2002, I found three other specimens while diving further north on the KwaZulu-Natal coast in Sodwana Bay which is just south of the border with Mozambique. The water there is quite a bit warmer there (78F). I found three together at a depth of 36 ft, one measured 25mm and two 20 mm. Unfortunately I didn't have my camera with me at the time.
Diving off Park Rynie is extremely interesting as it positively 'bristles' with opisthos. At some sites, there can be swarms of Chromodoris africana or Chromodoris hamiltoni whereas at another site only a 3-400m away there will be none. Overall, one can count on finding a good variety of species on all dives. Another excellent area for hoards of opisthos is Port Elizabeth although the water there is a lot colder - again, many endemic and beautiful species.
Reference:
Gosliner, T.M. & Johnson, R.F. (1999) Phylogeny of Hypselodoris (Nudibranchia: Chromodorididae) with a review of the monophyletic clade of Indo-Pacific species, including descriptions of twelve new species. Zoological Journal of the Linnean Society, 125: 1-114.


Lindsay Warren
London, England
Sept. 2004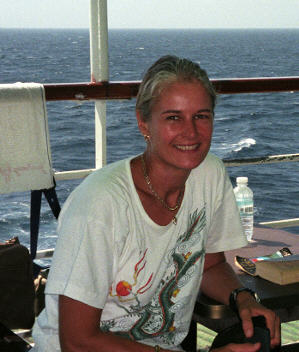 I have been diving since 1975 and only missed out diving one year in that time. Staying out of the water too long is no good! Even before learning to dive I had always been interested in matters 'underwater' with a special lean towards marine molluscs, mainly gastropods but sadly I was not encouraged to follow my interests at school. On my first dive I noted I had seen a nudibranch - unfortunately none of the other divers I was with at that time knew anything about them and I didn't have access to any books or literature on them, so it will always remain a mystery as to what species I saw.

From 1996-2000 my husband and I went out each year to the Tukang Besi Archipelago, SE Sulawesi, Indonesia and I became involved in developing an opisthobranch species list for the area. I am still working on the data and photos collected. At the same time I take the opportunity to look for opisthobranchs wherever I am in the world.

Send Lindsay email at alldcl@compuserve.com
---
© The Slug Site, Michael D. Miller 2004. All Rights Reserved.

---