Thecacera sp.
Photo courtesy of Bob Brace
Thailand
March, 2004

Thecacera sp. (undescribed)
In the past couple of years Mikeís site has featured a new Thecacera from Indonesian waters ( 177, 249 , and 341 . Bill Rudmanís Forum reports a second undescribed species from this same area. Well there is another amazing new Thecacera foraging on the reefs of the Indian Ocean.
The first time we ever saw this new species on page 189 and the back cover of Helmut Debelius' Nudibranchs and Sea Snails. That specimen was photographed on Male Atoll in the Maldives. We were amazed that this wild species was undescribed. Bob has documented the species again here, from a dive site referred to as Bang Bang Buffet, in Thailand. I donít want to even think about the derivation of the name of this dive site. It conjures up all kinds of wild ideas. Well, actually the site acquired its name by way of a Thai guide because of all the shooting done by photographers when they get in the water at the site......nudis, fish, cuttlefish, and many other bizarre creatures.
Similar to other members of this genus, this species displays aposomatic, or warning coloration. Like T. picta , T. pacifica and, T. darwini this species can hardly go unnoticed on any reef substrate. Its bright coloration warns predators of chemical toxins or foul taste. The genus Thecacera belongs to the phanerobranch dorids, who are incapable of retracting and protecting their gills within their mantle. Members of the genus rely on the combination of both the long extra-branchial appendages and their bright coloration to protect this vital organ form injury.
Among this species ornamentation is a fluted ridge encircling the rhinophores.
The genital apertures of this genus are quite large, compared to other dorid nudibranchs, as seen in Bobís shot of a pair mating .
Like members of the sister genera Polycera, Thecacera feed on arborescent bryozoans.
Dave Behrens
Danville, Calif
Aug. 01, 2004

---
Photo of Bob Brace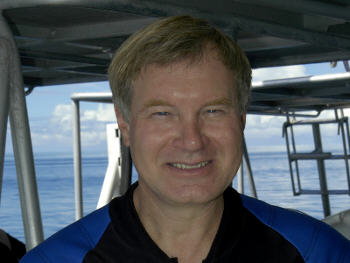 Diving since 1964 and enjoying underwater photography as an active hobby with my dive buddy and wife Ceci since 1985. We semi-retired as University Professors in 2001 and currently dive and travel widely including Malayasia, Thailand, Myanmar, Costa Rica, British Columbia, Alaska and the northern Channel Islands this year. My favorite is macro photography so nudibranchs are a natural subject. Advanced Photographer of the Year of the San Diego Underwater Photographic Society in 2002 and 2003 and currently President of that photo club.

Cameras included a Nikonos V with SB102 and 103 strobes until the Nikonos RS became available in 1992. For the past 2 years, I have been using a Nikon D100 digital camera in a Nexus housing with dual Nikonos SB105 strobes. The D100 was my camera of choice because of the numerous Nikon lenses that I had for top side photography. I generally set the strobes to 1/4 power, the shutter speed to 1/125 second and vary the apeture to achieve the proper exposure.
WEBMASTER'S NOTES : This week's presentation culminates many years of fantazing just what it would like to come upon this animal after originally seeing it on the back cover of Debelius's book. Well, I haven't had the good fortune of making its acquaintance, but I am indeed happy that a fellow SDUPS member finally did and was generous enough to share the photos with the rest of us!
---
Taxonomic information courtesy of:



---
© The Slug Site, Michael D. Miller 2004. All Rights Reserved.

---