Hypselodoris bullocki
Photo courtesy of Webmaster
Digital Photo
Nudi Falls, Kunkungan Bay, Indonesia
March, 2004


Hypselodoris bullocki

(Collingwood, 1881)

The saga of what is and what isn't a real Hypselodoris bullocki goes on. While some believe that the species represents the most widely variable species on earth with color morphs from pure white animal with a thin white marginal band (as Collingwood's original description describes) to deep blue with a thick opaque band. One of the variants has been described as Hypselodoris apolegma by Nathalie Yonow. Webmaster Mike has ran this species as Hypselodoris sp. in his BOW 100.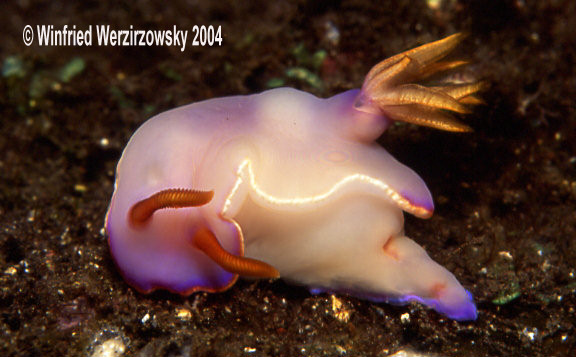 Well the need to make this decision came up again this March, when Webmaster Mike and Shooter, Marc Chamberlain were diving in Kunkungan Bay, Indonesia. Mike tells me that Chambo pointed out the critter shown above and swam on to other photographic pursuits. At first glance it resembled many of the common Hypselodoris bullocki they had been seeing in the area with one exception. Upon closer examination, Mike was confused by the unusual submarginal purple "racing stripe" and stopped to take a couple of pics just for the heck of it. Later on, Mike agonized over this one wondering if it was in fact a different species. That mystery was cleared up when Mike was visiting his friend Winfried Werzmirzowsky in Germany last month. He found a photo of the same morph shown at left while going through 1000's of Winfried's images from Indonesia. Deciding it was a H. bullocki he set it aside until he found Stuart Hutchinson's (SCROLL DOWN) animal on the Sea Slug Forum and the issue jumped up again.
Well, the long and short of it is - Mike and Winfried's critters are likely dark H. bullocki, as described in BOW 100. But until these dark guys are looked at internally we won't really know for sure.

Stuart's species with the dark dorsal patches is also shown in Constantinos Petrinos' gorgeous book, The Realm of the Pygmy Seahorse, is in fact a distinct and undescribed species. The internal anatomy of this species is quite different from that of the "group" of 'bullocki" look-a-likes.

I keep hoping that someday soon one of the world's Hypselodoris experts will put and end to this with a comprehensive paper describing the actually variation we can expect in Hypselodoris bullockii, and naming any new species, if there turn out to be some.

Sometimes Mother Nature intervenes with behavior that acts as a certain tie breaker as in the case of the "purple" and "white" variants copulating as portrayed in an image taken by Anthony Holley of England, who was the featured presenter in last week's BOW.

Until then – Happy Branching.

Dave Behrens
Danville, Calif
July, 2004






References:

Petrinos, C. 2001. The Realm of the Pygmy Seahorse. Starfish Press, Athens, Greece. 256 p.

Yonow, N. 2001. Part 11. Doridacea of the families Chromodorididae and Hexabranchidae (Mollusca, Gastropoda, Opisthobranchia, Nudibranchia), including additional Moluccan material. [In] Results of the Rumphius Biohistorical Expedition to Ambon (1990). Zoologische Meddelingen. Leiden, 75: 1-50.




---
Winfried Werzmirzowsky and Webmaster
Frankfurt, Germany
April, 2004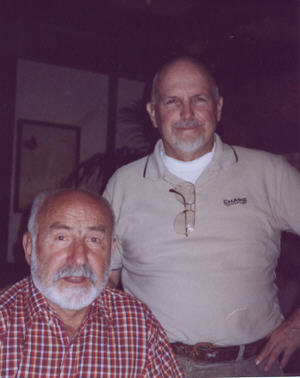 Webmaster's Notes: I first met Winfried some years back at Dive Paradise, Tulamben, Bali, Indonesia when we had adjoining rooms. Being somewhat in awe of his orderly arrangement of cameras and dive equipment, I was at first hesitant to strike up a conversation of in view of my less than organized gear strewn about my room. Perfect odd couple I though until my buddy Jerry Allen introduced us and I never looked back! Winfried's underwater photographic zeal is best exemplified by an incident on a succeeding trip. His RS teleconverter failed and he decided to go back to Germany to have it repaired. What a shame I said, to abort a trip over a part failure! Winfried replied, "who's aborting, I will be back in a few days." Sure enough he reappeared in four days with a repaired teleconverter. Being a retired airline pilot somewhat facilitated his journey, but it still required a lot of fortitude and dedication on his part.

So, when invited to visit him in Germany and see his images of Indonesia, I grabbed the wife and we took off to Germany in April of this year. Who would of though we would fly half way around the world to see underwater images?? Well, it was certainly worth it! Winfried's images have appeared in several publications, the one that presently comes to mind is "Crustacea-Guide of the World" by Helmut Debelius.

What more can be said, Winfried is a first rate underwater photographer!

For those of you that may be interested, the top photo was taken with a Olympus 750 UZ in an Olympus housing and Inon D180-S strobe. My experience with the Inon strobe is right in step with everything I have heard about it. If you're looking for a good digital strobe for macro work, you might want to look into the Inon strobe line.
---
Taxonomic information courtesy of:



---
© The Slug Site, Michael D. Miller 2004. All Rights Reserved.

---