Trapania safracornia
Photo courtesy of Graeme Gunness


Trapania safracornia, Fahey 2004
This new species of Trapania is quite brightly colored and very photogenic (if you have a small enough lens)! The specimens photographed in Western Australia by Graeme Gunness ranged from 5-7 mm. How Graeme even found them is amazing, but then to have taken some good shots too…well done Graeme.
The features that distinguish Trapania safracornia as a new species include external red-brown coloration without any white spots, symmetrical white patches overlaid with yellow pigment, a yellow-tipped tail and lateral processes and a translucent red rhinophore club. This combination of colors is most similar to T. brunnea Rudman,1987, found in eastern Australia. But the differences between these two species is most readily apparent when examining the radular morphology. Some differences are apparent with the reproductive anatomy as well.
Trapania safracornia shares several similar features with other species of Indo-West Pacific Trapania . Those features include a soft elongate body, no distinct mantle edge, two sets of curved dorsal lateral processes, a non-retractile gill and rhinophores with no pockets. The internal anatomy has to be looked at to appreciate the differences among the various species of Trapania .

Reference:
A new species of Trapania (Nudibranchia: Goniodorididae) from Western Australia with comparisons to other Indo-West Pacific Trapania. Zootaxa 514: 1-12 (17 May 2004) 4 plates; 19 references .



Dr Shireen Fahey
Postdoctoral Researcher
California Academy of Sciences
875 Howard Street
San Francisco, 94103



---
Photo courtesy of Terry Gosliner
Taxonomic text courtesy of Shireen Fahey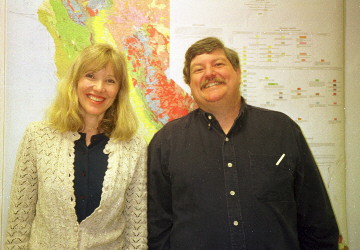 Photo of Dr.'s Terry Gosliner and Shireen Fahey at the California Academy of Sciences in Golden Gate Park, San Francisco, where Shireen is now a post-doc.


Send Shireen email at sfahey@calacademy.org


---
© The Slug Site, Michael D. Miller 2004. All Rights Reserved.

---