Gastropteron chacmol

Photos courtesy of Anne DuPont
Location: Stocking Island, Exumas, Bahamas (Southern Bahamas)
Depth: 3-6 feet - on sand during the day
Size: Approximately 4mm
January -March, 2004

Gastropteron chacmol Gosliner, 1989
Species of the genus Gastropteron are fascinating little creatures, with the athletic ability to burrow in sediments and swim, both. Previous BOW's have included members of sister genera - Sagaminopteron ornatum and Sagaminopteron nigropunctatum as well as, Siphopteron brunneomarginatum
Anne recently came across Gastropteron chacmol while diving Stocking Island, Exumas, in the Southern Bahamas. Anne reported that the species was quite common (literally found in the 100's) on sandy bottoms there. Like other Gastropterid species, specimens are quite small, measuring to about 7 mm in length.
Photo courtesy of Dave Behrens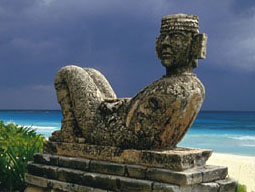 Good buddy, Terry Gosliner named this species after the legendary Yucatan figure, Chacmol (actual spelling - Chacmool, but derived from the name "Chaacmol) for which the very familiar statue referred to also as the red jaguar, is named). Chacmool is reported most commonly as a Mayan fertility God, responsible for bringing rain to water corn crops. Other accounts say Chacmool was the powerful warrior prince who had once ruled the Mayan/Toltec empire state of Chiche'n Itza. There is quite a bit of conjecture around these names and the statue, which is often referred to as being Mayan, but in fact is not. There are many examples of this supine statue throughout Mexico, some male, others obviously female. Back to the sea slug….. Gastropteron chacmol is deep red in color. There is a bright yellow band along the edge of the parapodia. There is in fact considerable variability in the color of this species, some specimens have white or yellow marks and spots are scattered over the surface of the body. The anterior edge of the head shield is bi-lobed with a distinct median cleft. When disturbed it can swim gracefully up into the water column.
Prior to Terry's description this species, specimens from the Caribbean had been referred to in the literature as G. rubrum , a Mediterranean, east Atlantic species. Those reports had it occurring from Texas, Florida, and West Indies to Brazil. In his description of the species, Gosliner adds the Yucatan Peninsula, Mexico and Caracas Is., Venezuela, to this geographic range.

References:
Gosliner, T.M. (1989): Revision of the Gastropteridae (Opisthobranchia: Cephalaspidea) with descriptions of a new genus and six new species. The Veliger, 32(4): 333-381.

Dave Behrens
Danville, Calif
Apr. 2004

---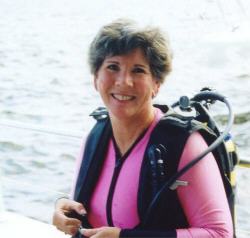 Anne is a retired IBM instructor whose favorite pursuit is underwater photography. She particularily enjoys photographing invertabrates. Anne has won international awards for her underwater photographs, and has been published in numerous SCUBA diving magazines, and other marine and non-marine related magazines. She also has been published in several books including "Venomous & Toxic Marine Life of the World."

Anne and her husband reside in Delray Beach, Florida. When not diving Florida waters, they spend their time diving and cruising the Bahamas on their trawler.

You can drop Anne a note at akdupont@bellsouth.net

---
Taxonomic information courtesy of:



---
© The Slug Site, Michael D. Miller 2004. All Rights Reserved.

---