---
Hoplodoris flammea Fahey & Gosliner, 2003

Hoplodoris flammea has thus far been found only from Bali. It was named for its fiery red central notum color. The notum is covered with large, rounded tubercles and the rhinophores are close-set and tall. The rhinophore and gill sheaths are raised with irregular edges and have small rounded tubercles on the sides and the rim. Hoplodoris flammea is superficially similar to H. bifurcata in that both species have a central dorsum color that is distinct from the surrounding mantle coloration. Hoplodoris flammea has a bright red color, while the central color of H. bifurcata is more reddish-brown. Both species have complex, variegated ground coloration with mottled shades of grays and browns.
Both have elongate rhinophores with deep tan lamellar regions and white tips. The gill leaves of both species are feathery and tan in color. But Hoplodoris flammea lacks the small black spots on the notum that are present in H. bifurcata .
Further, the internal anatomy, particularly the radular morphology, differs between these species. It is the combination of morphological characters, external, radular and reproductive that distinguishes H. flammea as a separate Hoplodoris species.


Dr Shireen Fahey
Postdoctoral Fellow
Department of Invertebrate Zoology and Geology
California Academy of Sciences
Golden Gate Park
San Francisco, California 94118
Oct., 2003

Reference:
Fahey, S. J. & Gosliner, T. M. 2003. Mistaken identities: On the Discodorididae genera Hoplodoris Bergh, 1880 and Carminodoris Bergh, 1889 (Opisthobranchia, Nudibranchia). Proceedings of the California Academy of Sciences 54(10):169-208.

Webmaster's Notes:: The above paper can be downloaded in *.pdf form from the Academy . Proceed down to publications 2003 and click on the paper.

---
Photo courtesy of Terry Gosliner
Taxonomic text courtesy of Shireen Fahey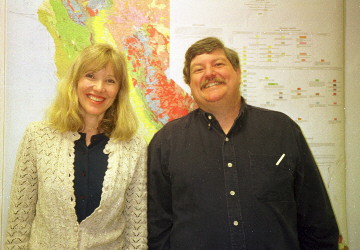 Photo of Dr.'s Terry Gosliner and Shireen Fahey at the California Academy of Sciences in Golden Gate Park, San Francisco, where Shireen is now a post-doc.


Send Shireen email at sfahey@calacademy.org


---
© The Slug Site, Michael D. Miller 2003 All Rights Reserved.




---