Chromodoris striatella
Photos couresty of Constantinos Petrinos
Lembeh Straits, Indonesia

---
Chromodoris striatella Bergh 1876

This week BOW comes Sulawesi, Indonesia -- the land of the This week's "Branch of the Week" comes from Sulawesi, Indonesia-- the land of the Realm of the Pygmy Seahorse . Constantinos Petrinos snapped this shot while diving with the Kungkungan Bay Resort in the Lembeh Straits. "Con" related to me that the 25 mm dorid was almost invisible against sand bottom. When he looked away to adjust his camera he'd loose the specimen every time.

This is Chromodoris striatella. It is one of several species with brown/black and white lines on the notum. It differs from Chromodoris lineolata having a white line between the yellow mantle margin and the fist dark stripes. Similarly colored with the white flecked gills and rhinophores is the recently described Chromodoris mandapamensis Valdés, Mollo & Ortea, 1999. This latter species is more spotted than striped. Con's critters have five dark patches on the notal surface.

Like other chromodorid nudibranchs it is a sponge feeder. Con found two specimens in about 120 feet of water on sandy bottom. Little else is known about this species. The species is known from throughout the western Indo-Pacific.





Dave Behrens
Danville, Calif
Sept. . 2003





---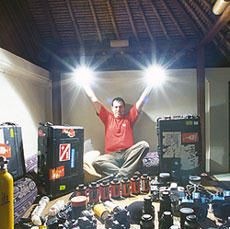 Constantinos Petrinos is a full time professional underwater photographer. He was born in Athens in 1961 and spent his early childhood in Cameroon, Africa. While growing up he aspired to become a marine biologist but more practical considerations led him to business studies. He obtained a Master's in Business Administration from Dartmouth College in the USA. A while ago he decided to free himself from business suits and suffocating ties and dive the world's oceans. His photographs have won awards at many competitions, including the BBC Wildlife Photographer of the Year. His articles and photos have appeared in various magazines, such as BBC Wildlife, Tauchen, Der Spiegel, Duiken, Dive, Oceans Illustrated, Skin Diver, Scuba Diver Australasia and the Greek editions of National Geographic and National Geographic Traveller. He is the photographer on location for the Hellenic Institute of Marine Archaeology, which conducts underwater excavations in conjunction with the Greek Ministry of Culture. Constantinos is the underwater photography expert for the Nikon Owners Club International. Throughout the year, Constantinos conducts slide shows in Greek schools, to promote marine awareness. He is a Fellow of the Royal Photographic Society.

Constantinos prefers to stay on location for a minimum of two months when working on major projects. He believes that you need to spend many hours underwater to familiarise yourself with the particular habitat and the species present in order to be able to capture behavioural scenes on film. For his book, Realm of the Pygmy Seahorse, he spent five months in Sulawesi and took 25,000 slides.
Send Contantinos mail at petrinos@otenet.gr
or visit his Web Site .
---
Taxonomic information courtesy of:



---
© The Slug Site, Michael D. Miller 2003. All Rights Reserved.

---