Chelidonura hirundinina
Photo courtesy of Anne DuPont
Stocking Island, Exumas Bahamas


---
Chelidonura hirundinina (Quoy & Gaimard, 1832)

While snorkeling this winter in the Bahamas, I was very excited to find Chelidonura hirundinina crawling on the sand. I found them over a range of 100 miles in the Southern Bahamas (The Exumas chain of islands) in depths from 2 feet to 10 feet. January, February and March, 2003.

They ranged in size from 1/2 inch to a few large ones that were 1 and 1/2 inches long. A few were turquoise instead of the bright blue.

They were all out in the day crawling on the sand. I always found them in close proximity with a Philinopsis sp. or Aglaja depicta ?. Sometimes both nudibranchs would be a few feet apart.

Per Dr. Bill Rudman of the Sea Slug Forum ,

"Species of Chelidonura are characterised by the pair of tapering "tails", (the genus name referring to the chela-like tails), and the mounds of sensory bristles on either side of the mouth. Sensory bristles are present in all aglajids, but they are most prominent in Chelidonura . Until a few weeks ago the food of Chelidonura was a mystery but thanks to participants to the Slug Forum we now know they feed on flatworms. While some species of Chelidonura seldom grow larger than 10mm, other species reach up to 90mm. Chelidonura hirundinina usually does not exceed 40mm, but is often much smaller. " The distribution of Chelidonura hirundinina, according to Dr. Rudman, "..... these species apparently have a circumtropical distribution in the Indian, Pacific and Atlantic Oceans. It suggests that despite millions of years of separation they still appear to look the same."

Having seen only one in the Florida Keys, it was really satisfying to find them in the Bahamas. Now I can't wait to go back this winter to see if I can find them again.



Anne DuPont
Delray Beach, Fl
April 17, 2003






Webmaster's Notes: I want to thank Anne for taking note that we hadn't done Chelidonura hirundinina before on the Slug Site and providing pictures and text for the BOW. Now, I'm going to go out on a limb and present pictures taken of the Indo Pacific counterpart of Chelidonura hirundinina as recorded in Tulamben, Bali, Indonesia in Sept. of 2001. The next two images depict two C. hirundinina encountered in the sand of Tulamben, one of which seems to be emanating a possible egg stream . This activity wasn't noticed until review of the slides was undertaken at a much later time so no effort was made at the time of the encounter to document the suspected behavior more extensively. Comments from readers are invited!


---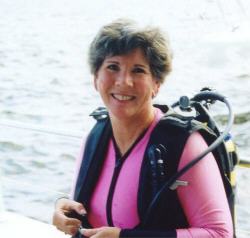 Anne is a retired IBM instructor whose favorite pursuit is underwater photography. She particularily enjoys photographing invertabrates. Anne has won international awards for her underwater photographs, and has been published in numerous SCUBA diving magazines, and other marine and non-marine related magazines. She also has been published in several books including "Venomous & Toxic Marine Life of the World."

Anne and her husband reside in Delray Beach, Florida. When not diving Florida waters, they spend their time diving and cruising the Bahamas on their trawler.

You can drop Anne a note at akdupont@bellsouth.net

---
© The Slug Site, Michael D. Miller 2003. All Rights Reserved.

---