Discodoris sp.
Photo courtesy of Rie Nakano
Kermama Islands, Okinawa
May. 2002

---
Discodoris sp. (possibly undescribed)


The first time I saw this critter I thought I was in the Jerry Garcia boutique in downtown San Francisco wear I buy all my outrageous Jerry Garcia neckties (when I'm not in a wet suit or shorts, my day job requires corporate attire). I hope all of you realize I am referring to Jerry Garcia, the lead guitarist from the Grateful Dead, artist and fashion designer. The texture of the notum and the free moving lines are something I would have expected Jerry to create. Variations of this neat little dorid show up in Ono's Opisthobranchs of Kerama Islands on page 105 as Discodoris sp.1.

Little is known about this bashful little dorid who when disturbed is quick to retract its branchial plume, webmaster Miller tells me. The body is cream with small low tubercles appearing as white spots. The dark brown lines are broken in some specimens as seen in Ono's photo, or contiguous as seen in Rie's great shot here.

Rie is one of the most generous people I have ever become acquainted with. She has shared her photography with us as well as specimens of many of the undescribed and unidentified species being discovered in her part of the west Pacific. And she has facilitated the introduction of colleagues like Nishima Masayoshi and Atsushi Ono to many of us in the US and set up joint sea slug activities like Miller's recent trip to Japan. Rie is also the reason that Ono's book and Keiu Suzuki's Opisthobranchs of Izu Peninsula are available here in the US. Rie has supplied Sea Challengers with both these fine books since they came out.

Once again Rie has generously provided us with a fantastic new critter. Had Garcia seen this critter, I know I'd have a necktie resembling it in my collection today.




Dave Behrens
Danville, Calif
Sept., 2002


---
Rie Nikano at Kerama Islands, Okinawa, May 2002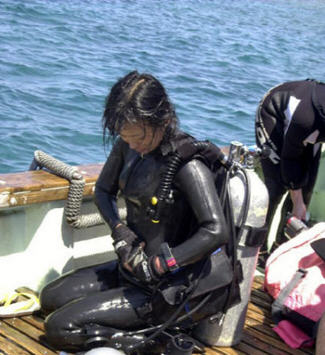 Since 1989, Rie has been a free lance writer and editor for Japanese diving magazines. Her main focus is interviews resulting in feature articles on nudibranchs for the Japanese diving magazine "Monthly Diver".

Rie was already interested in nudibrachs in 1987 when she first began diving. In 1996, She started the Japanese divers' site as webmaster. About this time Atsushi Ono from Okinawa also joined the site. Atsushi and Rie have been remained in close contact since first meeting in 1989.

To quote Rie:

"...Atsushi showed me how to photograph the many beautiful nudibranchs of the Kermama Islands. After many interesting discussions with Atsushi regarding Kerama's sea slugs, I became even more interested in nudibranchs! So, Atsushi is the real teacher of nudibranchs for me! In 1999, Atsushi recommended me to be the editor for his book " Opisthobranchs of Kerama Islands " . Thanks to Dr.Rudman, Dr.Bolland, and Mike Miller's site, I strived to do the best job for Asthushi and many readers..."

Rie has her own nudibranch web site (Japanese only).

Rie can be contacted at rie@divers.ne.jp

---
Taxonomic information courtesy of:



---
© The Slug Site, Michael D. Miller 2002. All Rights Reserved.

---