Taringa aivica
Photo's courtesy of Ali Hermosillo
Puerto Vallarta , Mexico, Jul. 2002
---
Taringa aivica ( Marcus and Marcus, 1967)



I first learned about this species while working with a company called Pacific BioMarine in Venice, California. Biologists with PB were helping me collect species to photograph for the first edition of Pacific Coast Nudibranchs . Bob Henderson had collected an ugly little dorid that appeared to me at the time to be new. Later we realized it was quite an extension to the range of a species the Marcus' had described from the Gulf of California, and published this account. In their 1967 monograph, the Marcus' had described two subspecies of Taringa aivica , one dubbed T. aivica aivica and the other T. aivica timia, the latter more closely matching the California specimen and hence the name used in my second edition. Since that time it is believed that the two subspecies are simply color variations of the same species and do not warrant separation.

The color variation of this species is quite dramatic when you compare the dull brown specimen in Pacific Coast Nudibranchs, species number 120, to Ali's photo's above.

The notum is disc shaped and covered with villous papillae interspersed with larger inflated papillae of various sizes (seen clearly in the purple specimen). This gives the notum a very irregular appearance. In some specimens the larger papillae are tipped in white as seen above.

Internally this sponge eating dorid species is distinguish by its radular morphology and the armature of the male reproductive organ. Specimens reach about 35-40 mm in length. The species is known from the Palos Verdes peninsula in Los Angeles County to Bahia Tortugas, Baja California and the Sonoran coast of Gulf of California. Ali's two specimens reported here extend the range significantly, again, to Puerto Vallarta, Mexico.




Dave Behrens
Danville, Calif
Aug., 2002


---
Image of Ali Hermosillo and Roberto Chavez Arce
Picture courtesy of Roberto Chavez Arce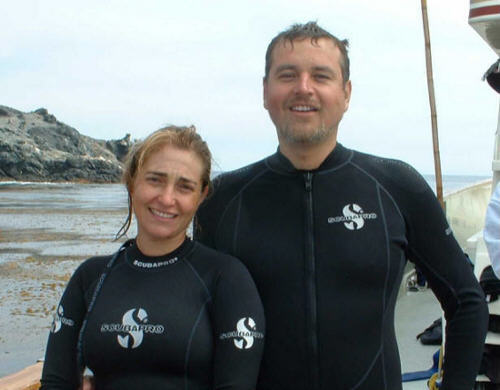 The diversity of life in marine ecosystems holds no parallel with any land environment. My absolute passion is nudibranchs. I have been in love with these animals for a long time, and now that I have the opportunity to study them in my back yard. Puerto Vallarta is a well know town in Bahia de Banderas . It has excellent dive sites but has not developed into a major diving destination yet, still, I have been diving in the area for many years. I am a Ph. D. Student at Universidad de Guadalajara, my thesis project is "Ecology of the Opisthobranchs of Bahia de Banderas" study that involves preliminary survey to find out which species are living there followed by years of observation of the communities.

As of today, after 6 months of survey, my opisthobranch species count for Bahia de Banderas is around 94, some 20 or so species are range extensions and 4 more are undescribed. My advisor and dear friend Dr. Hans Bertsch taught me to look for opisthobranchs by observing their egg masses, their prey and by preparing myself to be surprised.

Bahía de Banderas has a unique biogeography, with steep walls to the south and gentle slopes to the north. It´s great depths (mean 300 meters and maximum 1700) give it lower temperatures than surrounding regions. It is the transition zone between the Gulf of California and the tropical Mexican Pacific. The flora and fauna in Bahia de Banderas are an untypical mixture of both biogeographical provinces.



Ali Hermosillo
Puerto Vallarta, Mexico
Aug. 02

Ali can be contacted at gueri25@hotmail.com

Webmaster's Notes: In May of this year I was invited down to Puerto Vallarta by Ali and Roberto to participate in a branching field trip along with Sandra Millen of Vancouver, British Columbia. Sandra had arrived a good week or so before me and it was evident that Ali's unbridled enthusiasm was wearing Sandra out and I could envison myself as next in line. What the heck, I packed an ample supply of geritol to get through the trip! What I saw in the way of Pan American branchs at Bahia de Banderas exceeded my wildest expectations. Sandra and myself were both beset by camera problems, I had little enough time to see all the branchs Ali and all the mexican branchers were coming up with. The camera shutdown had mixed blessings. Going in without it enabled sufficient time to ponder all the magnificent animals Ali and gang were finding!
I would like to take this opportunity to totally endorse the dive operation Ali and Roberto's are associated with (Vallar-Tech ) in Puerto Vallarta for any nudiphile who would like to experience the Pan American branching scene! Their operation is first class and Ali and associates will certainly find enough branchs to rekindle memories of the trip for years to come. This recommendation comes without any special financial considerations on their part. I paid the same as everyone else. They can arrange hotel accomodations very convenient to the dive operation.-Webmaster
---
Taxonomic information courtesy of:



---
© The Slug Site, Michael D. Miller 2002. All Rights Reserved.

---