Halgerda rubicunda
Photo courtesy of Atsushi Ono
Dive site "Tounaka" near Zamami Is. Okinawa Japan. 25 Jun. 2002.
---
Halgerda rubicunda Baba, 1949



I want to thank my good friend Atsushi Ono for sharing this very rare find with all of us. Even collecting daily in the type locality of this species Atsushi has only seen this single specimen in seven years of close observation. This species was described in Dr. Kikutaro Baba s historic monograph, The Opisthobranchs of Sagami Bay Collected by His Majesty The Emperor of Japan.

Halgerda rubicunda differs from the more typical Halgerda form, but not having strong ridges connecting tall tubercles on the dorsum. Instead the body is lower in profile, firm, reddish orange in color and has very fine, low reticulated pattern of ridges. It has distinctive patches of interesting color, one between the rhinophores and one crossing the body in front of the gills. These patches vary with mixes of white, yellow and black. Ono-san s specimen here even has some greenish pigmentation.

This species is obviously very cryptic on the sponge species it feeds upon. The body coloration closely resembles the surface of the sponge (complete with oscula) as well as the gungie encrusted areas on the coral substrate nearby. This species reminds me of several Lamellarid gastropod species, and Sclerodoris tuberculata Eliot, 1904, who also have this similar coloration resembling variability in the substrate.

This species is known only from Japan, from Sagami Bay, Kii Peninsula and Zamami Is.,Okinawa where Ono-san found this 18 mm specimen. The only published reference I could find, other than Baba' s original description , was in Marine Mollusks in Japan .

Ono-san's photograph and information presented here is a significant contribution. Thank you Atsushi.



Dave Behrens
Danville, Calif
July, 2002


---
Atsushi Ono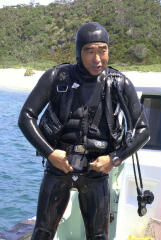 Atsushi Ono is the owner of a dive service on Zamami Island in the Keramas off Okinawa that caters mainly to Japanese Divers. Atsushi evidently relocated from a small town north of Tokyo some fifteen years ago to Zamami Island. He subseqeuntly started a diving service. In fact, the economy of Zamami Island seems to based entirely on diving! For those of you who don't speak Japanese that is not a problem communicating with Atusushi, his written english is very good! Atsushi has a passion that so many of us also share and that is the observation and study of sea slugs. Atsushi published a field guide "Opisthobranchs of Kerama Islands " a couple of years ago that excels in the macro photography of small Japanese slugs. His book is a must for any of those considering travel to that area of the world. We spent many an evening with Atsushi sharing pictures and experiences with branches. His enthusiasm is very intense, one can feel it in both talking and diving with him! Atsushi has been a regular contributor to the Okinawa Slug Site maintained by Bob Bolland.

I feel so strongly about the Ono-san's dedication to the study of Opisthobranchs that he is going to receive my unqualified recommendation for anyone planning a branching trip to Okinawa. His operation is first class and can be totally focused on branching if you bring enough people. This endorsement is a first for the Slug Site and I hope more follow. No financial considerations were offered for this endorsement. Jerry Allen and I paid the same rate as everyone else!---Webmaster


You can drop Atsushi a note at ononini@cosmos.ne.jp
---
© The Slug Site, Michael D. Miller 2002. All Rights Reserved.

---