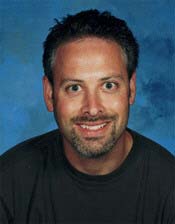 By vocation, Jeff Rosenfeld is the Technology Coordinator for a high school in Seattle, Washington. In his spare time, he loves to travel. Jeff began diving in 1994 and taking underwater photos in 1995. Among his favorite destinations are the Philippines, Solomon Islands, Indonesia, and a bit closer to home, Vancouver Island. Jeff maintains a web site of his underwater photography called The Vibrant Sea .
Jeff has the following to say about the locality of this Nudibranch of the Week.
"...Few places in the world better demonstrate the ocean's truly amazing ability to withstand man's best efforts to destroy it better than Anilao, Philippines. Located a mere 3 hour drive south of Manila, Anilao represents to me, better than any other location I've visited, the potential humans have on the sea. In Anilao, marine identification books are only of so much use as one constantly comes into contact with creatures that simply have not yet been discovered or in the least, formally named. Even though hundreds of thousands, if not millions, of divers have visited these waters, scientists still constantly identify new species on Anilao's reefs. When it comes to sheer diversity of macro creatures, I've simply never encountered any single location quite like Anilao. From the truly bizarre that one can find nightly at a dive site like Basura to the pristine beauty of a reef such as Beatrice, Anilao simply offers mind-blowing macro diversity..."