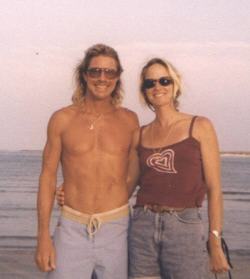 Suzanne grew up in Los Angeles, where she learned to enjoy big-city life. Much stronger, however, was the love she developed for nature, and the simple joy of being outdoors. A natural athlete, she excelled in virtually every sport she tried, including basketball, distance-running and swimming. After graduating from Stanford University with a degree in Art History, she sold art for several prominent galleries until her natural instincts took over. Suzy wanted to work outdoors, so she became a scuba instructor and taught diving for several years in Maui. Eventually she met Mark there through mutual friends, and later joined him for a dive trip in Thailand in 1990. Suzy & Mark hit it off, and have been together ever since. For nearly eight years they worked together on a live-aboard dive boat, helping divers appreciate Thailand's underwater world. Recently, however, Suzy has taken a leave of absence to raise the couple's pride and joy, a cheerful one-year old boy named Dylan.
Suzy was the one who spotted this new species of Reticulidia the first time and pointed them out to Mark.
Mark Strickland has had a close relationship with the sea since an early age. Growing up in Florida, he has worked many years as an ocean lifeguard, boat captain, and diving instructor. Mark's passion for underwater photography has led him to many of the world's best diving areas, including Australia, the Caribbean, Galapagos, Indonesia, Papua New Guinea and many other destinations throughout the Indo-Pacific and elsewhere. While each of these areas offered something special, many of Mark's favorite dives are in the vicinity of Phuket, Thailand, where he's been based since 1988. Most of each year, Mark works for Fantasea Divers, serving as Cruise Director / Photo- Pro on their live-aboard vessel, Ocean Rover. An avid marine naturalist, Mark has discovered several new species of nudibranchs, including one that is named for him, Halgerda stricklandi.