Tylodina fungina.
Photo courtesy of Dr. Marc Chamberlain
Channel Islands, Calif




Tylodina fungin Gabb, 1865


This yellow Notaspidean sometimes gets confused by new comers as a "limpet", a prosobranch gastropod. It is easily distinguished from limpets who have a much smaller white foot and whose shell is usually clamped tight to the substrate.

Like other notaspideans it has retained a shell, which is cap-shaped and unlike other genera in this group is external and quite visible. The shell in Berthella for example, is internal and not discernible. Tylodina's shell is covered with a bristled mantle and the rhinophores are rolled. Specimens have varying degrees of brown coloration on the mantle.

A second closely related species assigned to the same family as Tylodina is Anidolyta spongotherus. This species was described by fellow Brancher Hans Bertsch in 1980. Exercising his usual sense of creativity and humor when describing this new genus and species Hans created the name Anidolyta by spelling Tylodina backwards, adding an "a" to give the new name gender. This species is not as colorful as T. fungina, and is found in deep water off Vancouver, British Columbia

Tylodina fungina occurs from Cayucos, California and all through southern California to the Galapagos Islands, where it is most often found on its prey, the yellow sulfur sponge, Aplysina fistularis. Specimens can reach about 30 mm in length.





Dave Behrens
Danville, Calif
Apr., 2002





---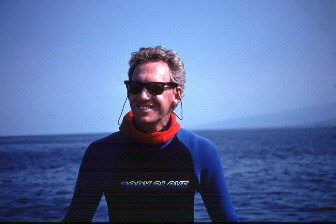 Marc Chamberlain is by vocation a neurologist and by avocation a wildlife photographer. He enjoys traveling during which he is always toting cameras. His diving holidays have been to the Carribean, up and down the west coast of the Americas and throughout the Indo-Pacific. His photographs have appeared in numerous magazines including: National Geographic; International and National Wildlife; Ocean Realm; Outside; and various Cousteau Society publications. Marc has collaborated on several books including Nudibranchs of the Pacific Coast. Marc was also San Diego Underwater Photographic Society Photographer of the Year six times during the time he lived in the San Diego County area. Marc has participated in thirteen consecutive San Diego Underwater Society Film Festivals which has to be a club record!

Send Marc mail at chamberl@usc.edu
---
Taxonomic information courtesy of:



---
© The Slug Site, Michael D. Miller 2002. All Rights Reserved.

---