Chromodoris sp. (Midway Island)
Courtesy of Steve Drogin

This weeks "Branch of the Week" is an interesting and extremely common species, currently stuck in one the many taxonomic quagmires clogging nudibranch systematics today. The chromodorid shown in Steve's photo here from Midway Island is externally similar to the group of species referred to as the Chromodoris reticulidia/tinctoria group. Several variations of this Chromodoris sp. are shown in Coleman's 1001 Nudibranchs on pages 75 and 76, and in Ono's Opisthobrachs of Kerama Islands page 88. Bill Rudman groups all the color variants under Chromodoris tinctoria on the Sea Slug Forum.
Examination of the internal anatomy does suggest differentiation between several of the color patterns, but a comprehensive review of all color forms, quantifying these characters so to systematically separate the species will be necessary to accurately decipher the group and name any new species.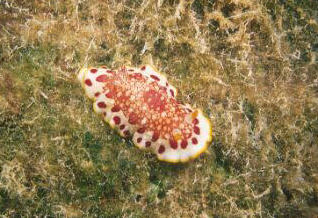 The Midway Island critter shown above establishes one extreme in the color array, having the widest submarginal white region with very large red spots, and the medial reticulate network made up of wide open cells. Even on Midway where this species is one of the most common dorid species observed, variation exists as seen in another of Steve's images to the left.
I hope that some brave taxonomist tackles this group soon, and puts to rest permanently (or as permanently as anything is in this group of animals) the nitty gritty on just how many species there really are, and how to differentiate them. Until then we will just have to continue calling this animal "Chromodoris sp. (Midway Island)."

Merry Xmas and Happy New Year!




Dave Behrens
Danville, Calif
Dec. 2001

---

Chromodoris sp. photo courtesy of Steve Drogin of San Diego, Calif.
Steve Drogin photo courtesy of James Watt of Kona, Hawaii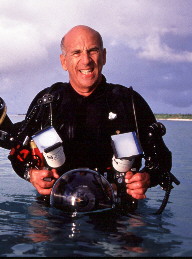 Steve is a very active 62 year old amateur Diver/Photographer who spends full time traveling and diving the globe. He lives in La Jolla, California and is a member of the San Diego Underwater Photographic Society. Photographic credits include an article on the sunken fleet of Bikini Atoll in Sports Divers Journal(Issue 16) . Also his photos have also been featured during Discovery Channel's Shark Week promotions.

Send Steve mail at sbdrogin@mill.net
---
Taxonomic information courtesy of:



---
© The Slug Site, Michael D. Miller 2001. All Rights Reserved.



---