\
Philinopsis lineolata
Photo courtesy of Webmaster and Perry Paleracio of Batangas, Philippines

---
Philinopsis lineolata (H.& A. Adams, 1854)

This weeks 'Nudibranch of the Week' is certainly a step up from last weeks featured critter. Of course anything is better looking than that troll. It must have something to do with depth - shallow water species within reach of the sun rays are beautiful, while those hidden in the dark of very deep waters are troglodytes. Yuk, I'm still not over it yet.
While Philinopsis lineolata behaves like a troglodyte, it certainly doesn't look like one. This species like many other aglajids, is a carnivore which burrows in sand and sandy mud, seeking prey. It is easy to identify by the lateral stripes. Individual specimens range from light colored with thin stripes to dark individuals with broad dark stripes.
Philinopsis lineolata belongs to a group of aglajids that have a long tubular proboscis. The folding of the tube creates rounded crest in the center of the head. Bill Rudman says it reminds him of the front of a jumbo jet. Other species with this bump on the head are P. gardineri and P. pilsbryi .
Specimens of this species are known from the Great Barrier Reef and throughout Indonesia and the Philippines. They may reach 50 mm in length.

Merry Xmas and Happy New Year!!

.


Dave Behrens
Danville, Calif
Dec. 2001

---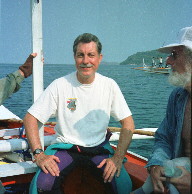 David W. Behrens
Author: Pacific Coast Nudibranchs
Co-Author Coral Reef Animals of the Indo Pacific
Propriator of Sea Challengers Natural History Books !
35 Versailles Court
Danville, CA 94506
E-Mail - info@seachallengers.com
FAX - 925-736-8982
Voice Mail - 925-327-7750
Send Dave mail at seachalleng@earthlink.net

---
© The Slug Site, Michael D. Miller 2001. All Rights Reserved.

---